Described in GQ recently as a 'cool and crowded opium den' environment Macao Trading Co. is a gem in Tribeca and as we head down the small stairs into the dark dungeon beneath we are in for something very special!
A little candle lit table in the dark corner and there is a great atmosphere and even better menu! We are suddenly very hungry!!
It is seriously dark here so apologies for the piccies, we tried not to annoy everyone with the flash!!
The House smoked brandade is amazing, super creamy, tart lemon and just wonderful!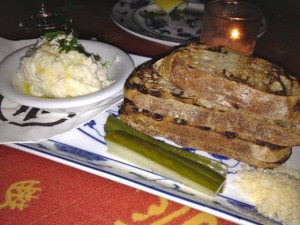 The mushroom & truffle croquettes are AMAZING!! Crunchy jackets around aromatic truffle and smooth creamy mushroom potato yyuuummmmmm!!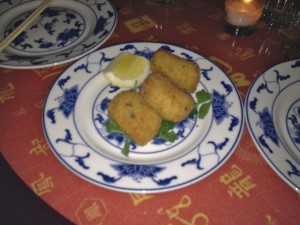 The dj is starting to spin the tunes and everyone is having a party at their tables, the bar area is quickly filling up and we are feeling like we have the best seat in the house!! The dry fried boneless pork ribs are succulent, charred and coated in delicious flavours YUMMM!!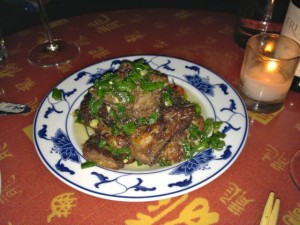 The table is really dark… and it's probably for the best when the Bone Marrow arrives! I have never tried it before and it is not quite as I expected, more of a jelly than a pate texture I am not sure if it is really for me!!
But the Chicken & pork belly Dumplings are gorgeous! Light, thin dumplings with lots of gorgeous fillings… sooo goood!!!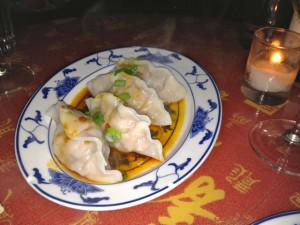 We have over ordered but we really wanted to try as much as we could but when the Ants climbing the tree arrives we are defeated but we party on and make some room with a little boogying! The perfectly cooked glass noodles with minced heritage pork and plenty of chillies makes it hard to leave any!!
The dancing must be working as we also find room for dessert!! I give you 'Malasadas' Portuguese style doughnuts, stuffed with vanilla cream ooooohhhhhhh yes!!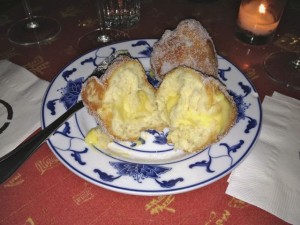 Macao is a dinner with a party and we don't want to leave!! But we have too!!