It's a 15 hour flight to LA with nothing but the entertainment system and food to break the monotony!
For a Foodie it is an interesting exercise to see what we will get! Virgin is of course a bit cooler than the rest, everyone is given a water bottle and directed to keep refilling at the water stations to hydrate. Or you can fuel up at the snack stations with soft drinks and mini snacks. Cool!
The entertainment is fantastic, five films and a nap later I have caught up on the Teens Vampire adventures and some trashy chick flicks over a couple of gin and tonics….. Going well!
Commence the times to screw up your head with closed blinds and changes in time zones – we left at midday and first meal we got was a late lunch / early dinner. Choices were good with mustard beef with mash or a butter chicken. I love the fact that you get a whole tray of treats on the plane – it is never just dinner!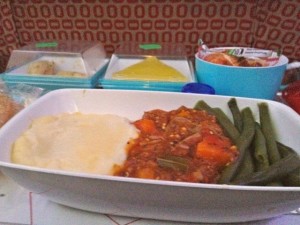 There is a pasta salad, bread roll, cheesecake, beef with mash and green beans and cheese and biccies. More than you would generally eat but there is something that requires me to 'stock' up due to the unknown of the next meal time….. Bored?!
The beef is pleasant, the mash great, beans all good! Te pasta salad is tasty and the cheesecake fine ….. I am a bit intrigued by the recent Heston program about airline food and your own taste buds in the stuffy pressurized environment. Either way it tastes good and I am all fueled up for another movie and a nap!
Many hours later a cute snack box is delivered, lavosh, dip, shortbreads – all lovely and the second gin is guaranteeing a nap!
The staff are lovely, seats as comfortable as they can be, the only thing Virgin can't do is filter the bogsn family charging around the plane like they own it – intolerant… Me? Surely not!!
Nap, film, walk, nap, film …. What time is it? Where are we? It's 1am our 'real time' but it's breakfast time in LA and there are pancakes or frittata for breakie. There is nearly all out breakdown when a wrongly labelled frittata is delivered and is intact pancakes …. I am reduced to the simplest thongs in life and I really don't want my last meal for the next XX hours to be pancakes …. Princess moment!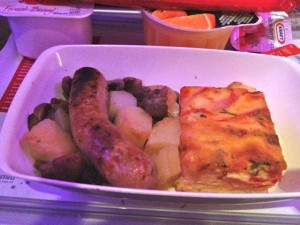 Don't despair hubby swops quickly before any tears and we are soon tucking in like we haven't eaten in days! Chicken chipolata – good, frittata – good, potatoes and mushrooms – good! Plus yoghurt, juice and crackers with jam …. Must consume calories!
Nap, movie, nap, bored …. But before you know it we are starting our descent into LA with full bellies and sore backs – must walk more next time!
Overall Virgin direct to LA was fabulous! The staff were lovely, we were well looked after, very well fed and long haul has come a long way in 8 years, who would have thought you could charge your iPhone at your seat!