First stop The Roosevelt to drop off bags and then straight out for breakfast and to test this American coffee I have been warned about!
The Roosevelt staff are lovely and happy to recommend Blu Jam cafe as a great spot for brunch and a good coffee!
The wait isn't too bad, the place is obviously very popular so there is a wait of about ten minutes before we are installed at our table, big glass of water and a substantial menu packed full of fun!
Eggs anyway you want, pancakes, oatmeal, French toast, steak and eggs amazing!
Coffee first! Oh the in trepidation! Firstly there is no such thing as a skinny flat white, you are not in Kansas anymore Dorothy! But an organic caffe latte sounds good and when they arrive there are a mega cup of pretty good brew! Fr us it is about 5am so this is heaven!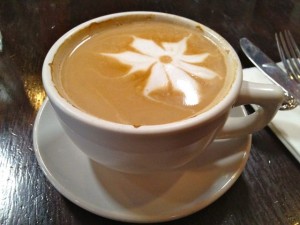 Breakfast Is the Breakfast Quesadilla, Grilled chopped chicken breast scrambled with eggs, tomatoes, spinach and cheddar in a grilled flour tortilla topped with avocado, homemade salsa and sour cream, served with potatoes …….
Holy mother It is huge! It must be a 14″ tortilla, generously filled and with half a plate of fried potatoes! I was warned the portions were good in America and this is a pretty good start! The plate would struggle to go in my dishwasher at home!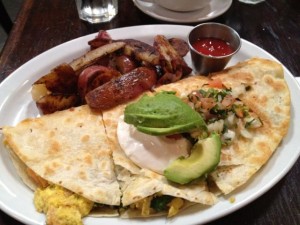 However it is gorgeous! Plenty of nicely cooked chicken and eggs and then luscious sour cream, great salsa, fresh avocado …. Fantastic!
Steak and eggs looks great and I'd quickly devoured! Obviously not as big a portion?!? Other dishes are flying out of the kitchen and eggs Benedict looks good, pides are big and fresh … It's a good vibe and a nice place to be!