I don't think you can go wrong on Victoria Street for tasty, reasonably priced, easy going Vietnamese food!
T'relek is no exception! Firstly the modern decor was cool! The silver reflective lighting and a wall of Pho bowls was great! I loved it!!
The open front of house let in the warm afternoon breeze and a flask of tea is immediately on the table with the menus to mull over.
There is a wide selection of Traditional dishes including yummy noodles, rice, spring rolls and much more.
The rice paper rolls with pork and prawn are divine! Super fresh, perfect consistency and excellent dipping sauce – tick tick!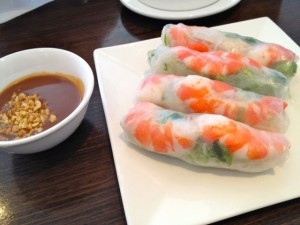 The service is quietly friendly and efficient, plenty of tea, water, smiles and fast food!
The satay chicken is perfect, the skewers have been chopped in half making it easier to nibble on for two of us to share three skewers! Succulent, juicy, nutty, spicy…. More please!!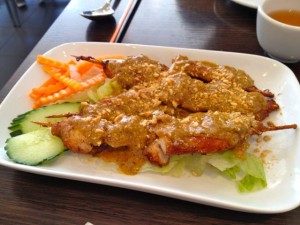 The vermicelli noodles with beef and chilling are AMAZING, so very fresh and very generous! The dressing adds all of the necessary flavors to marry the ingredients and it becomes one of the best noodle salads I have had in a long time – will be coming back for this one!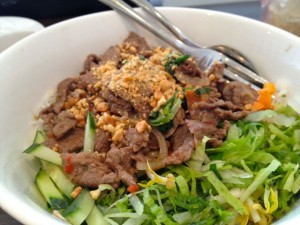 Finally an extra plate….. For the table? We didn't need the generous plate of salt and chilling squid but in the interest of research we had to indulge! Not my favorite dish of the lunch but good flavours, nice batter and big pieces of not chewy squid!
All round fabulous and we will have to come back for more noodles!
Salt and pepper calamari
Satay chicken
Rice paper rolls with prawn and pork
Vermicelli with beef and chilli