This is a great little spot!
On a busy stretch of Hawthorn is this little gem!
Super smily service and good food! AND great coffee!
The menu is breakfast, brunch with a great sounding Tandoori Chicken Roti and Lamb Burger and curry YUM!
The coffee is lovely, perfectly smooth and creamy – tick tick!!
My friend goes for poached eggs on toast with avocado and cream cheese, they look fabulous! Vibrant yolk oooozes onto thick toast. Hmmmm!!
My veggie ciabatta with chargrilled eggplant, peppers, tomato, feta and a gorgeous chutney. Lightly toasted ciabatta and generous filling… sublime!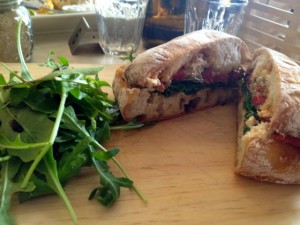 Lunch should always this good!