The much over hyped coffee had a lot to live up too! It is actually us who have overhyped it as it is the last before boarding the 15 hour flight to America!
Apparently American coffee isn't too good so this would be the last hit!
There is a cute little spot before you drag yourself through security and check in …. There is also a much bigger version inside if you can wait!
It's bright, pink, cool and there is an amazing selection of colorful macarons sparkling away!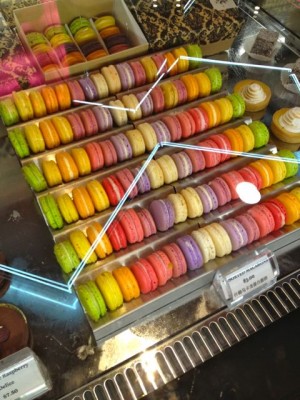 The menu is a great selection of breakfasts with Birchers, filled croissants etc. Lunch is covered with sandwiches and baguettes filled with yumminess such as curried egg, classic club and ham hock to name a few! Plus salads, pies and you know they won't be just any salads or pies, they are Shannon-pies!
The savvy traveller might also splash out on the clever meal boxes to take with you on your flight….. Plane food can be a challenge! For $18 you can take Shannon with you! The breakfast box was packed full with Kurabuta ham hock and gruyere on brioche roll, seasonal fruit, Birchers and mini pastry – what a delicious bargain!!
The coffee is exceptional, with so much pressure to perform the smiling barista delivers a legendary cup of creamy, earthy, deep, dark wonderful joy!!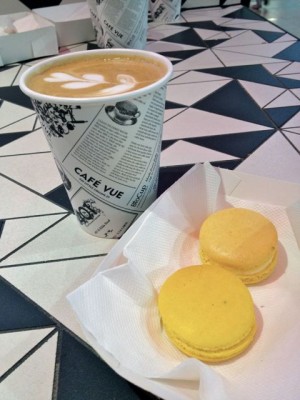 The macarons are hard to resist, why not! Lime is zesty, sharp, sweet and gorgeous. Passion fruit zingy and creamy hmmmmmmm
I kick myself all the way to LA for not buying the multi pack to nibble on the way…. One macaron an hour would be perfect!!
Perfectly yum!