Seriously the best night EVER! After eating here no other restaurant will be good enough, they will all pale in comparison to the amazing package that STK offers!
In the newly opened Cosmopolitan is a world of amazing bars and restaurants, from Bond bar to the Chandelier bar its is bubbles and sparkles all the way! These place was made for the girls! With an all day Champagne wristband available with three levels of bubbles, Chandon, Moet and Veuve – you can drink your way around this place on a bubbles frenzy!!
BUT even better STK have Magnum Mondays! Legendary stuff! This is just a small part of what makes STK exceptional!!
The decor is cool and luxurious! The seats at the tables are in a mock crocodile black and are super comfy! The whole place is centred around the DJ booth though. This is quite different and it is an absolute winner with the right guy at the helm!
Seriously the best party I have ever had and with Veuve and a Steak!!
So Magnum Mondays – it has too be done! Buy a bottle of Veuve Clicquot and you are automatically upgraded to a Magnum …. how good is that!! And here it is!!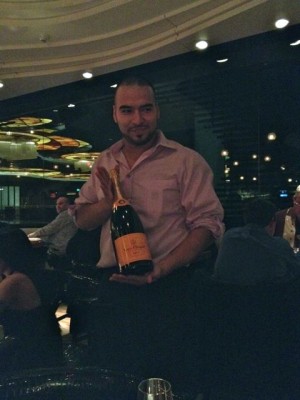 Isn't it beautiful!!!
From there the night just gets better and better, even the complimentary bread is the BEST bread you have ever had!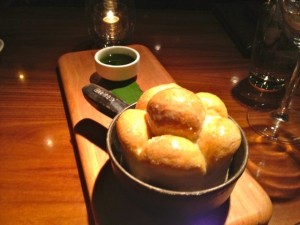 All soft and amazing and fluffy and with a garlic and herb oil AMAZING!!
DJ Mike Attack is going great guns on the decks and the whole place is turning into a party at every table! Even if the food was rubbish it probably wouldn't matter because this place is so much fun it almost becomes secondary BUT it isn't!!! The food is amazing!!
The menu is gorgeous, steaks and seafood and all things yum!
We go for the dozen oysters to share and they are exceptional! So easily oysters can be a fail but you cannot fault these babies! Plump, salty, sweet and utterly divine!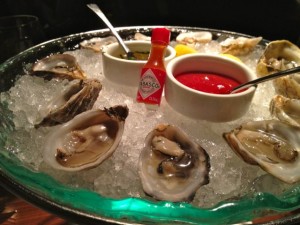 The bubbles are flowing and the restaurant is rockin' away when the most amazing steaks arrive! OMG amazing!! The filet medallion 7 oz is just perfection! AND with the horseradish cream I am in HEAVEN!!!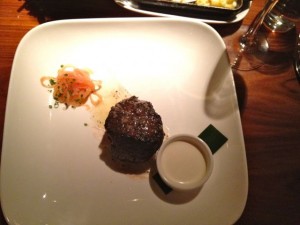 Everyone is smiling and just having the best time but the icing on the cake is my first ever real Mac 'n' cheese!
We go all out with the sides and get;
Creamy yukon potatoes
Spiced maple carrots
Broccolini
AND the Mac & Cheese
SOOOOOOOOO amazing!!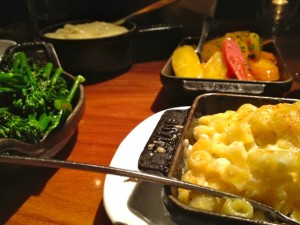 Seriously this place cannot do a thing wrong! The food, the service, the atmosphere…. heaven really is a place on Earth and I found it in Vegas!!