It is a breezy sunny day on the The Strip and we grab a terrace table to soak up some rays!
Mon Ami Gabi is a gorgeous spot at the bottom of Paris hotel and offers traditional French fare to all the happy Vegas visitors exploring the many casinos.
First up we go for a Carafe of 'Frangria'! Sangria french style with iced beaujolais, grand marnier, fresh fruit, and a hint of rosemary, perfection!!!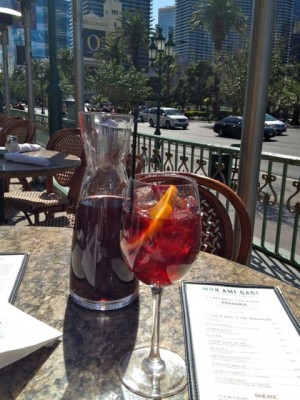 A warm fresh baguette and whipped butter are soon on the table and we order in a few dishes to share as we relax.
The baked cheese is …………… sublime!!!!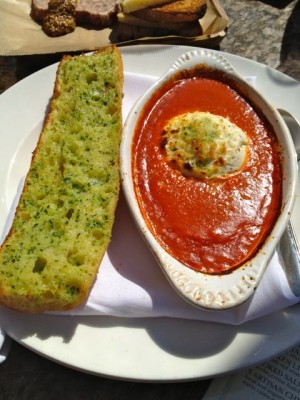 Gooey, oozy, cheesey wonderfulness!! Swimming in a deep, rich tomato sauce – soooo YUM!!
I accidentally order the Housemade Country Pate Cornichons, whole grain mustard, warm country bread, I probably meant to get the liver pate mousse as I don't normally like the 'terrine' style country pate but this was lovely! Nice, delicate flavours and not so much of the fat that I usually dislike in this style.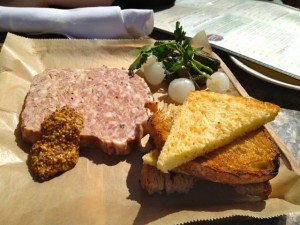 The place has a really nice vibe with pleasant, non intrusive service and happy tables of customers enjoying themselves.
We get a few serves of the Mussels Mariniere with white wine & herbs and served with frites, the mussels are really good! Big, fat gorgeous nuggets in their shells, a few beards that you needed to remove but they were great.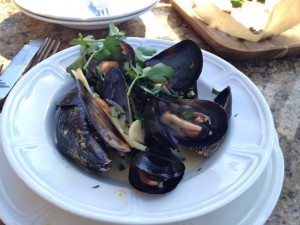 The frites are a bit strange, wafer thin almost like crisps and not what I would usually expect but very nice!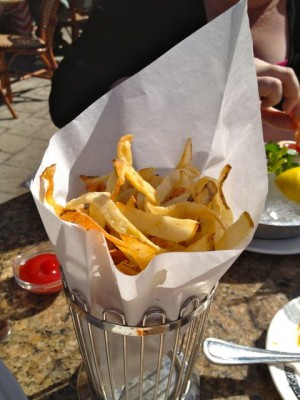 The jumbo shrimp cocktail is a serve of five jumbo prawns and a dipping sauce, super fresh!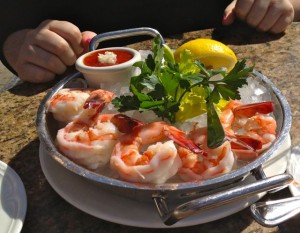 This is a great place to watch the world go by over a lovely glass of Frangria and some delis baked cheese!!