There's a queue going around the block every night for the Shake Shack and we had to find out why!
The much loved Burger and Fries – it can easily be a greasey, fatty pile of non descript cardboard that you eat on the run OR like at the Shake Shack – it can be a little bag of sublime wonderousness!!
The menu is easy – burgers, fries, shakes! There's a few variations, hot dogs and even take away dog treats but we are queued up for our Shake Burgers and chocolate milk shake. As you queue past the window you can see the staff dolloping chocolate ice cream into shakes and flipping beautiful burgers!
All burgers are 100% natural Angus beef and the Shake Burger is all that goodness with American Cheese, lettuce, tomato and shack sauce….. pretty darn good!!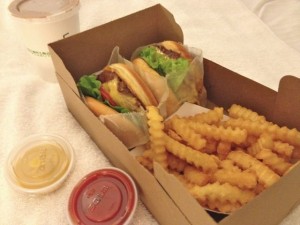 Teamed up with crinkle cut yukon potato fries it is a little paper bag of happiness! Now I know what the queues were all about!!