It was everyones 'must visit' when we were planning our visit to New York! And I am so glad we didn't miss out as this place is fantastic!! Especially if you LOVE oysters!!
It's a little bit like stepping back in time, one side of red and white checked table cloths and the other with the Oyster bars all ready to go! The art deco ceiling is stunning!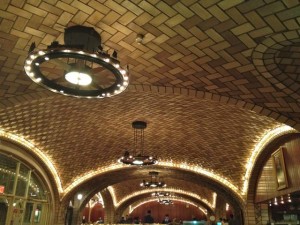 The list is loooong! 27 different oysters plus chowders, clams, po-boys – the menu is BIG!!
We go for a random selection of a dozen oysters purely off the names! Naked Cowboy, Beavertail, Fanny Bay, Otters Cove…. hurrah for wonderful Oysters and the perfect place to celebrate this wonder of the sea!!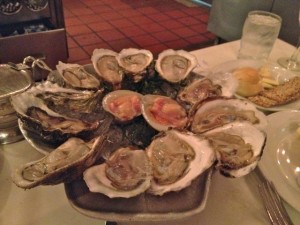 Wonderful!! Some of them are huge!! They are so fresh and just a dash of lemon and we are on cloud nine!!
We try a raw fresh clam too, I am so glad we get talked down from the very large to the medium as they aren't really my thing and after the luscious oysters they are just not as amazing!!
BUT the oyster po boy gets us back on track!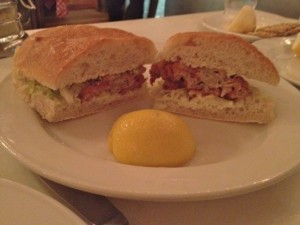 Soooooooooo good! Juicy fresh oysters, lightly crumbed and served on super fresh bread with a light tartare…. just amazing!!
The old wordly classicness of this place with the polite service and wonderful oysters makes it just a wonderful place to be!!
And then step outside to try out whispering corner – stand at opposite sides of the curved roof and you can whisper to each other and the art deco curves will carry your message over!!
Love it!!