After seeing Buddakan on the Sex in the City movie was a must 'eat' on the list of the many many restaurants in the districts of New York. Next to the trendy Chelsea market it is one of the many cool conversions going on and once inside it is dark, mysterious and cavernous!!
The bar is pumping and the Americans are brilliant at this game of please wait at the bar and we will come and find you once your table is ready – HOW?!?!? I can't imagine what they write next to the booking to remember what each party looks like so that they can easily wonder up 15 mins later and take you off to the Buddakan wonderland!!
We pass through the main dining hall, huge high ceilings and two large staircases floating you down and then off through the 'tunnels' and to our table. The walls are filled with Buddha images and it is dark, intimate and the menu is amazing!!
The staff are lovely and explain the menu, lots of sharing plates and order away and they will tell you when to stop!! A Gruner Veltliner is on the table quick smart and our orders are in! The table next to us is quickly heaving with plates of gorgeous looking food!!
First up – I have never had frogs legs so lets have a go!! The 'Wok Hay Frog Legs' with golden chives are the 'fillets' from the legs with a chive salad – YUM!!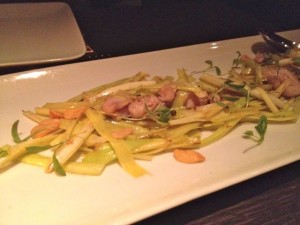 They are nice…. not sure what I expected and I hate to say it but a bit like chicken!!??!! But next up with the Hoisin glazed pork belly steamed 'buns' with spicy shallots and cabbage……. WOW!!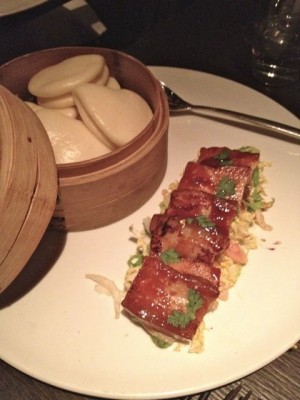 DIY pork buns! I don't know how they keep the 'bun envelopes' so soft and fresh and not sticky but grab one and get the super gorgeous glistening pork into it's little slot and a few accompaniments and we are in HEAVEN!!!!
Lobster egg rolls with mint, cabbage and a wonderful sweet chili sauce are generous, crispy, crunchy and packed full of sweet lobster meat….. soooo good!!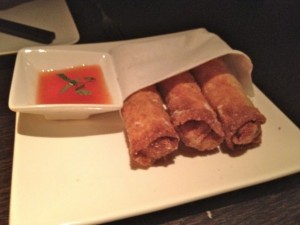 The Glazed Alaskan Black Cod with chili eggplant and black bean relish is perfection, perfectly cooked, flaking cod with spice and warmth plus the earthiness of the eggplant relish – Winner!!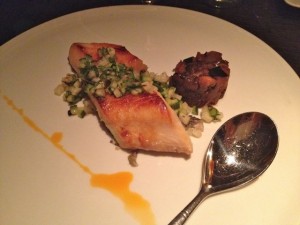 The 'Broken chilli chicken' with chinese pepper and thai basil is a simple looking dish that absolutely rocks!! The chicken is perfectly moist and the crunchy coating delicious and then the sauce is just amazing and so tasty – more, more, more!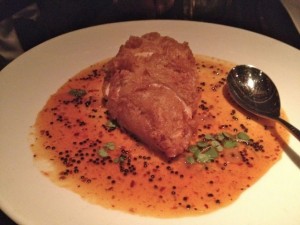 We finish up with the beautifully presented 'Dungeness crab sticky rice' with x.o. sauce and chinese broccoli, my perfect dish, I love rich and this has so much flavour – yummmity yum yum!!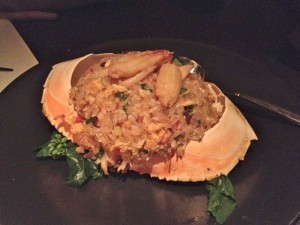 Buddakan is everything it promised to be, just a shame we didn't see Carrie there with the girls!!
I wish we could come back soon!!