Koi is elegant, curvy, fresh and fun! There is a dark broodiness about it but an element of cocktail fun!
The menu is a great mix of classic Japanese with signature dishes like Sautéed Tiger Prawns Sweet and Spicy Glaze,
Sesame Encrusted Lobster Tail Bok Choy and Sesame Yuzu Glaze Steamed Chilean Sea Bass. And their signature handrolls with fantastic fillings like Baked Scallops, Sautéed Shrimp and Spicy Rock Shrimp Tempura YUM!!
We go for a selection of dishes to share and the Kobe Beef Potstickers with Ponzu dipping sauce are gorgeous. Light, succulent and the dipping sauce is fantastic.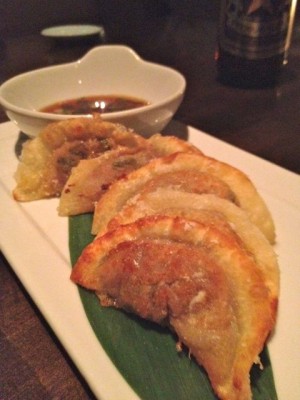 The Chicken Yakitori Sesame with Ichimi Glaze were textbook perfect. Juicy, charred, smokey and delish!!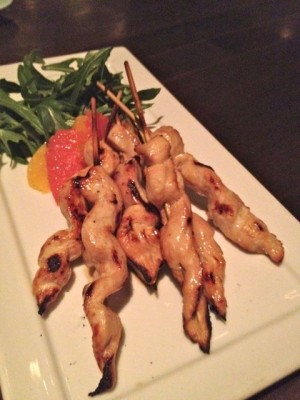 The signature rolls were too good to miss, we opt for the Spicy Rock Shrimp Tempura Hand Roll and the Kobe Surf & Turf Roll with Garlic Soy.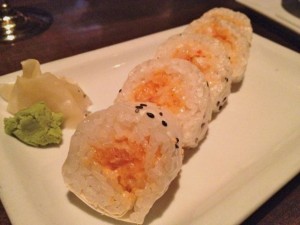 Both are fabulous, super tasty, divine!!
The Steamed Chilean Sea Bass Ginger with Ichimi and Shiitake Mushrooms is a wonderful dish. The fish alone is fresh and flaking beautifully but it takes on a whole new level with the Ichimi and shiitake – wonderful!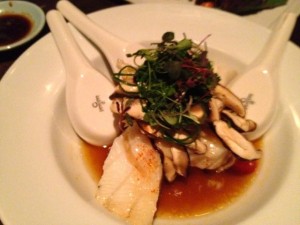 The Wasabi Braised Short Ribs Vegetables with Soy Sesame Glaze are fabulous! Flaking meat gently flavoured with wasabi and soy they are a delight to eat!!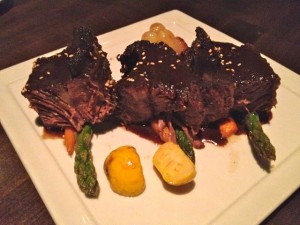 As an extra dish we have the Roasted Shishito Peppers, similar to the pardon pepper they are salty and slightly spicy – FAB!!!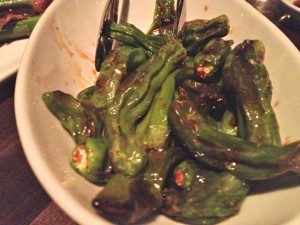 All in all we had a great time with Koi and a haven from the crazy nights of Vegas!!