Only in Vegas can you have breakfast in New York and dinner in Paris!!
The Eiffel Tower, part of the fun of the Paris hotel, is based on the original blue prints of the real thing and offers a fantastic 360 degree view of the Vegas strip. And halfway up is the wonderful restaurant where we celebrated our last night in Vegas.
It is fun, decadent, intimate and very French!! Our table has a stunning view of my favourite fountains at the Bellagio and we quickly settle in with the wine list and relax.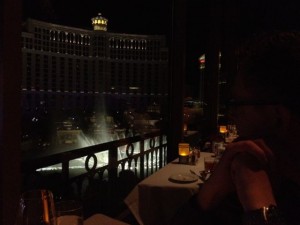 The menu is exquisite! There is a very tempting degustation menu packed full of all their fabulous dishes but we have been eating a lot this holiday so we decide to just go off the menu.
It is intimate and dark so photos are challenging – so as per usually do not judge on my pictures!!!
There is a beautiful amuse bouche with a cauliflower reduction that is packed full of flavour and a great start to a very exciting meal.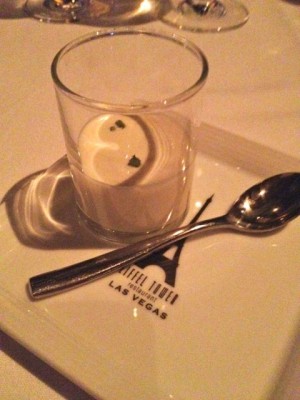 The Blue Cheese Soufflé Pudding is just amazing with walnut, pecan petite Salade it is super soufflé!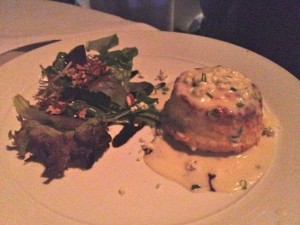 Just the right level of cheese! Not too strong and just incredibly pleasant to eat!
The Maine Peekey Toe Crab Salad with cucumber and black sesame seeds is equally lovely with a generous serving of rich, moist crab and sour radicchio to break through the creamy dressing, gorgeous!!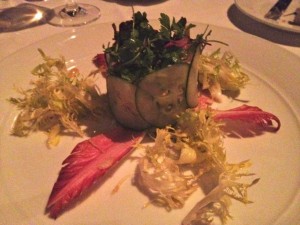 The service is impeccable, polite, not intrusive and we could really be in Paris!!
For mains we go down the meat route with a wonderful 'Surf and Turf'! An Aged Prime Beef strip loin with butter poached lobster and roasted salsify. A delicate portion of perfectly rare beef and a buttery lobster are decadent and lovely!
And the Individual Eiffel Tower Beef Wellington is an absolute gem! Served with sautéed snap peas and onions it is a substantial, pastry wrapped rich and gorgeous 'pie'!!!!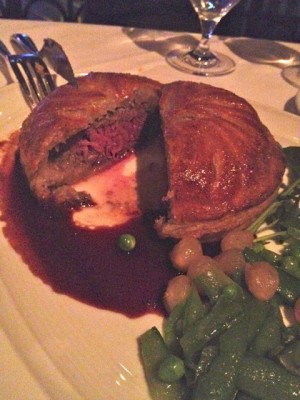 Team that up with a couple of gorgeous sides and we have had a wonderful French Feast! The Brussels Sprouts with chestnuts and bacon and the crispy potato croquettes are both amazing!!!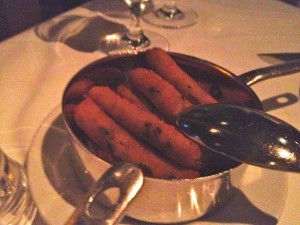 What could we do to end this amazing meal with something even greater? Creme Brûlée anyone?!
It is aaaaaaammmmmmaaaazzzzziiiinnnnnnggggggg!! Including the white choccie circle holding up the perfect crispy fan on the delicate crispy sugar layer over the creamy custard lurking beneath!!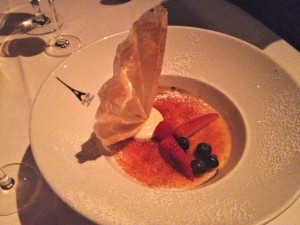 The evening was stunning, the food amazing, the staff gorgeous and we are sad to leave but our tummies are fulL!!