For a special occasion I love nothing better than a decadent lunch somewhere special and we have always wanted to try Rockpool out at Crown Casino.
It's a perfect day to hide in Air Conditioned Crown! And our table next to the window means we can watch the world go by and relax with a loooonnngggg lunch!
Firstly – service is impeccable – you cannot fault anyone there and it makes a huge difference to an experience.
Secondly – the decor is gorgeous, it is a big space but it has been made quite intimate with the divisions and decorations – I love the chairs, super comfy leather 'bucket' style chairs (I am no interior designer!!).
It's a mixed crowd and strangely under-dressed – Prada trainers, England shirt, Vest and Tatts… make an effort people!!
The menu is BIG! There is a lot to choose from and it all sounds so amazing! Seafood, grilled lamb, lobster, pasta, prawns, oysters and…. steaks… so many steaks!!
I like the commentary on the menu, important statements like;
The cornerstone of good cooking is to source the finest produce — Neil Perry
and
Dry aged beef does not benefit from cooking past medium rare.
Intensive industrial farming is cruel. All of our animals are humanely treated and live a stress free and happy life.
Our waiter is happy to spend a generous amount of time talking through the menu, the theory and history of the wagyu cattle and the differences across the steaks and cuts… how to pick?!
Easy starters – Freshly shucked Sydney Rock oysters with mignonette sauce – mixed dozen of Pambula and Clyde River.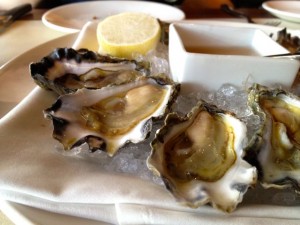 Quite simply beautiful! The only disappointment is how quickly they disappear!
The wine list is HUGE, I think it was about 47 pages of amazing varietals from all over the world but I cannot resist a Tassie Moorilla Muse… stunning!
The oysters are a good plan in order to devour some serious beef and still have room for dessert – tactics!!
I debate over the different steaks and cuts and settle on a Cape Grim dry aged, 36 month old grass fed Sirloin on the bone, just a 400g serve! Again our waiter guides us through the best plan of action, my usual rare is upgraded to medium rare to suit the cut and our choice of sides are met with an agreeable nod!!
When my plate arrives I am stunned… how gorgeous!!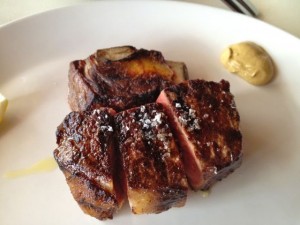 What an amazing piece of meat, a very large piece of meat! Beautifully served with the bone to the side and with my big steak knife I am going in! My upgrade to medium was well justified and this is perfection on a plate!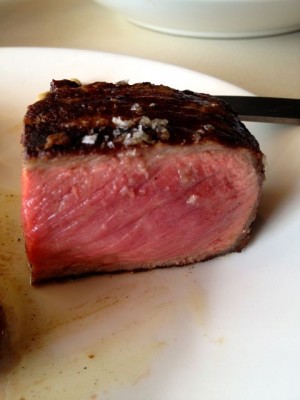 Just stunning!
My hubby's Wood fired grilled Lamb Cutlet and chops with mint jelly is also a substantial serve of amazing, succulent lamb with those perfect crispy fatty edges… hmmmm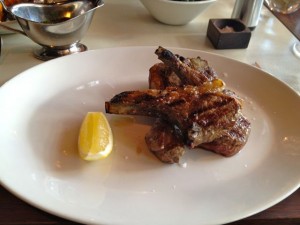 Rockpool delivers well over expectations, even the sides are monumental!!
The Pumpkin and Sweet Potato with Burnt Butter and Garlic Yoghurt is divine, I absolutely adore the sweet pumpkin and it is great with the meat!!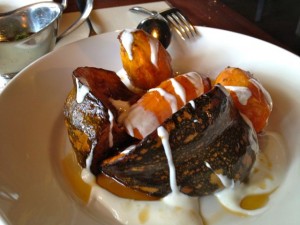 Everything works perfectly with the 'Seared Warrigal Greens and salt bush leaves with garlic, olive oil and lemon' just sooooo more-ish!!
We work through slowly, taking in how wonderful everything is ….. very spoilt!
BUT wait…. there is still time for dessert!
Dark Chocolate Pudding Tart with Chocolate Sorbet ……… oh my!! Mouth watering as a type!!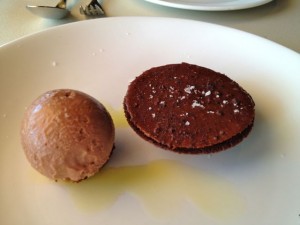 My never ending cooking programmes talk about 'texture' this is it! The perfect textures on a plate, the cold, dark choccie sorbet with a super fine crispy shell on top of the gooey and crunchy pudding tart….. AMAZING!!
Sadly no Cherry Sorbet today but the mango is sublime and light and refreshing with a cheeky little Brandy snap, yum yum!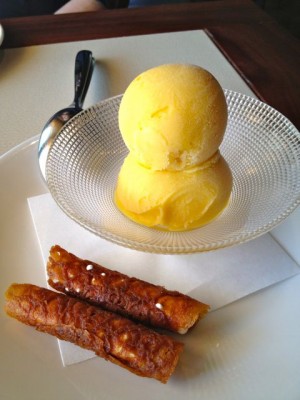 It has been a fabulous afternoon, we have completely spoilt ourselves and begrudgingly we have to leave Rockpool but I know we will be back as soon as we start craving a damn good steak!
To keep the theme going we get out Neil Perry's Balance and Harmony cookbook for this weeks book for the 2012 Cookbook Challenge! Read more here