We've been living so close to each other, I go past you every day – how has it taken me so long to get to know you!??! Let's face it I have totally been missing out!! Ocha is amazing!
In their new home since 2010 the Ocha website provides some lovely insights into their humble beginnings
Back in the mists of time – 1994 – a small restaurant opened in Kew with the express aim of bringing superbly crafted Japanese food to an Australian audience. Here, in a tiny converted butcher's shop that barely seated 30 people, Ocha was born. The toilets were outside and elbows were kept tucked in, but this unassuming little star was on the rise. It wasn't long before this suburban restaurant captured the hearts and taste buds of the locals (and interlopers from all over Melbourne!) and quickly built a fiercely loyal customer base.
The new restaurant has a wonderful welcoming feel and is light, airy and the staff are quietly attentive and the open kitchen shows insights into the team conjuring up the amazing modern Japanese cuisine.
The menu is amazing! All the traditional fare with plenty of new twists!
I love it when we get a big group around the table, it means we can get plenty of dishes to share and don't have to struggle to pick just one!
First up is the 'Salmon canapes – salmon tartare infused with wasabi on a homemade potato crisp topped with flying fish roe'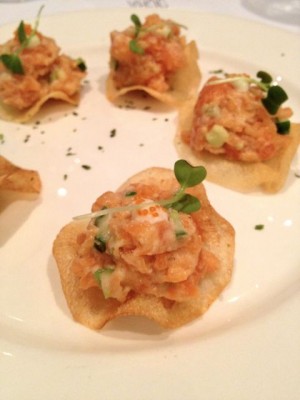 A little mouthful of heaven! So much flavour and the homemade crisp is very impressive!
We also get a selection of the Tassie oysters to share and they are so wonderful we even get a non-oyster easter to try one, if you are going to convert someone this is the place to do it!! The flavours matched with the oysters are amazing;
Sugaki Ocha's vegetable vinaigrette
Ponzu Ocha's ponzu dressing
Yuzu sorbet topped with yuzu sorbet
Miso patrick grilled with bacon and miso
Wasabi mornay mornay sauce and wasabi cheese
Strawberry fresh strawberry and an egg vinaigrette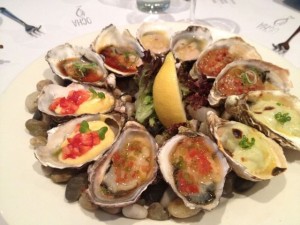 The wasabi mornay and strawberry ones are my favourite, I am a sucker for wasabi anytime but the strawberry was something new! And it really worked wonderfully!
The Scallop hollandaise are out of this world! A perfectly grilled scallop served in its beautiful shell with Ocha's hollandaise sauce – YUM!!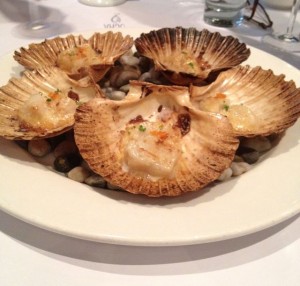 The only problem with try a little of everything is only have one scallop – these are soooooo good – I want more!!
The modestly named 'Prawn dumpling' is infact a golf ball of gorgeous, fresh, succulent prawn meat caked in a light cornflake type crumb and fried to perfection! Little sprinkling of green tea salt and we are in heaven!!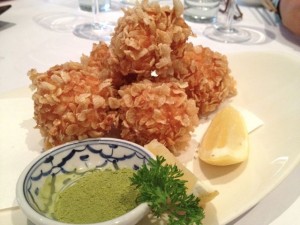 When you go to Ocha – do not miss out on these!!
The Sushi and sashimi combo 'for those who cannot decide'! Is super fresh, super amazing and the fried soft shell crab, salad and avocado in a "coat" of white radish sheet are equally rockstar status!! We catch a glimpse of the chef slowly shaving the rounds of the white radish and it is awesome! So clever!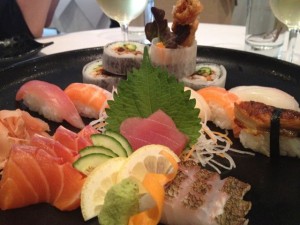 The Spicy sashimi salad – a salad of tiger prawns, scallops and kingfish with a chilli miso dressing isn't my favourite, there are plenty of fans around the table but the sauce isn't to my taste, but it looks beautiful!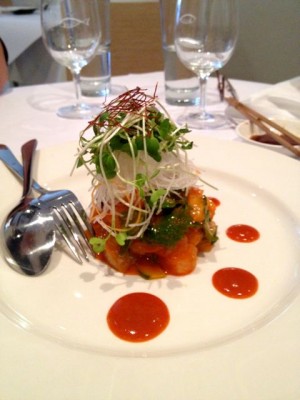 But the Spicy calamari salad is absolutely my kinda dish! Crunchy calamari "legs" tossed with heaps of lovely fresh chilli and garlic – divine!!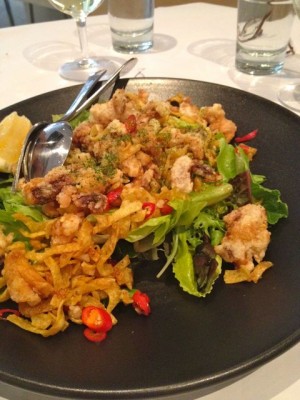 If that wasn't enough we also had to sample some of the desserts!! It was a birthday afterall!! The staff were super lovely and organised a candle for our lemon tart and the sampling commenced!
The Sticky toffee pudding was legendary! Dark, dense but so light in taste, not a sickly over sweet pudding just perfectly gorgeous!!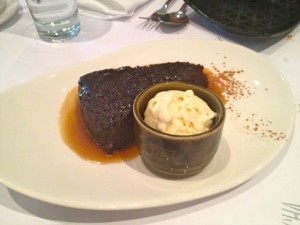 The Ocha's lemon tart was gorgeous and the Crepes with Coconut and date palm sugar treacle sound very sweet but they were just amazing! I love coconut and this was a great hit!!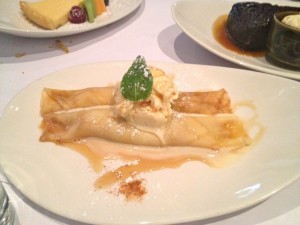 This is an amazing spot and if you are lucky enough to go you will undoubtedly come out smiling and full!!