Crust Pizza, it's been a while but we are back online and booking some fantastic pizzas for delivery on a cold rainy night. The Crust menu has always changed a bit and old friends like the Pesto Parmesan pizza and the four cheese disappeared but they were replaced with the fantastic starter pizzas and new favourites like the Peri Peri.
The Sweet Chilli & Basil Squares on a Sweet Chilli base is divine! Thin crust base, melted mozzarella and tangy sweet chilli sauce – soooo good!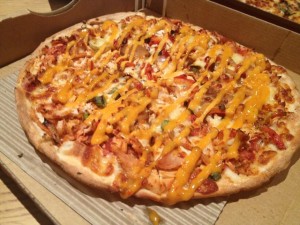 Peri Peri Chicken my old friends, I have missed you!! – Marinated Chicken Breast Fillets, Shallots, Roasted Capsicum, Caramelised Onions & Bocconcini on a Tomato base, topped with Peri-Peri sauce. Perfection!!
The Ciabatta loaf served with Herb & Garlic Butter was ok, probably carb overloading!!
As a pizza addict I have tried a few and these are right up there with the best! Yum!!