We really do love Pho! We should get a t shirt!!
It's such a great place, tables are always packed and there is always a queue waiting to get in and order their big bowls of super cleansing gorgeous pho!
I'll always try something once so I ask for a Penny Worth Leaf drink – the lady thought I was hilarious when asked what it was and I responded with "No idea"!!!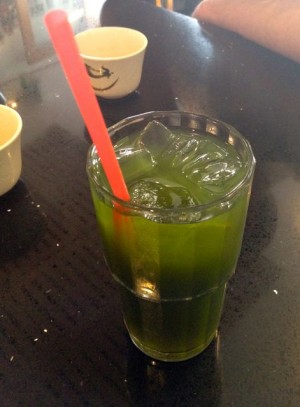 It was nice! Herbal, not overly sweet and pretty good!
The spring rolls are divine! Super crunchy cigars packed with sweet prawn and wrapped in their little lettuce jackets and dunked in their sweet and spicy dipping sauce…. glorious!!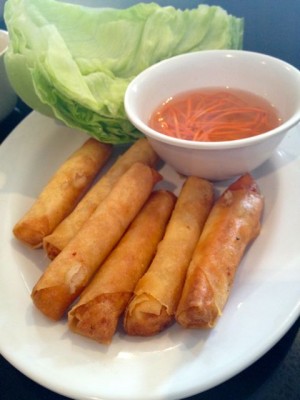 But we are here for Pho! And the special Mien ga Hanoi soup with vermicelli and shredded chicken is spectacular, pop in your beansprouts, thai basil and chilli and dive in!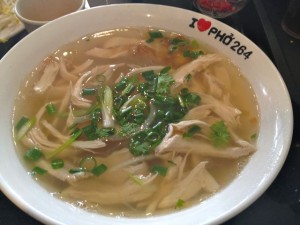 Top tip – wear loose clothing and tie up long hair! It gets super hot with all this soup and after ingesting a litre of tasty broth you are hot hot hot!!
We love you always I Love Pho!!
————————————————————————–
Published 7th October 2011

They loved Pho so much they changed the name of the restaurant to I Love Pho!
The queue is well out of the door but there is no need to worry they will soon have you seated at a table and served in super quick time!
The combination of the Vietnamese and French influences of Hanoi saw the first Pho restaurant open in 1920's (thanks Wikipedia for the trivia!) and Victoria Street is the Melbourne home to this wholesome dish (or so I am told!).
I Love Pho has no airs and graces, this is lunchtime, it's manic and their turnover of tables must be legendary! As fast as we are seated there are more people queuing and people leaving with full bellies. The staff fly gracefully around with trays full of massive pho bowls steaming away – they must weigh a fair bit!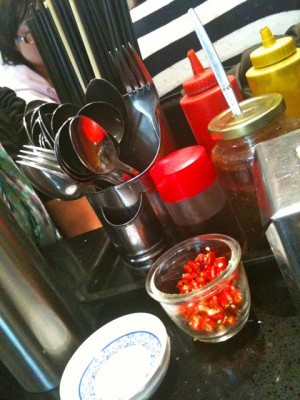 The choices are relatively simple, I am a shredded chicken girl, it's the safe option but it is sooooo good. You can also explore beef, cartilage, tendon, fat or tripe! There are also rice paper and spring rolls now available.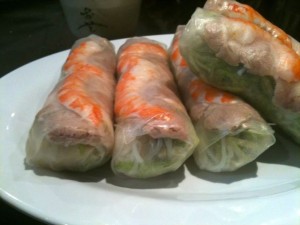 Packed with prawn, pork, vermicelli and all the wonderful herbs and crunchy beansprouts, they are a winner, but I do have spring roll envy as they fly past to other tables!!
The pho bowls start to arrive and everyone tries to help move the bowls along the table, the staff must have asbestos hands because those bowls are seriously hot and we are all learning to leave it to the professionals!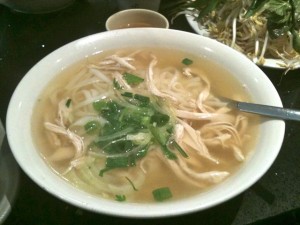 I am still relatively new to pho – infact this is only my second bowl! But I have quickly started to understand why this big old bowl of soup is so popular! I am not sure how I would go on a 40 degree day as a short time into consuming my pho my body temperature is sky rocketing and I am removing my scarf and getting frozen young coconut juice! The combination of soothing stock, shredded chicken breast, herbs and big fat noodles is almost cleansing (I will ignore all references to msg, I have no idea if it is there!) But it is fabulous, a few fresh chilli's swirled into the mix and I am quickly shovelling chopsticks full of noodles into my mouth and trying not to spatter my fellow dinners in the process!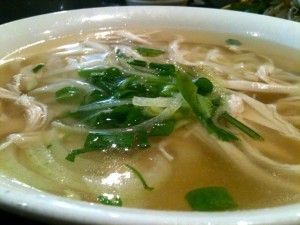 It is a great place to catch up with friends, chow through your pho and roll back out of the door, I love the I Heart Pho tshirts, I am thinking we might need to start the 'Pho Fridays Club' and get us all a cool black and red homage to my favourite pho spot in Melbourne!