Another trip out to Elwood, thats twice in a fortnight! Must be due to the amount of great places opening OR they were always there and I have discovered your secret – cue evil laugh!!
The Dining Haul located on a nice corner spot on busy Ormond Street, it used to be something else – it was always empty when we went past, so great to see this place now has a large breath of fresh air, lots of zingy yellow and a new lease on life!
We booked a table and were offered the window seats facing out into the road… prefer not and the waitress had no problem moving us to an gorgeous outdoor table, perfect for the balmy Summer evening!
Wine list is great, I became quite addicted to the Adelaide Sauv Blanc from Deviation Road!
Menu is FAB! Lots of nibbles, bigger plates, salads, brioche burgers hmmmm!!
I am with my Foodies and we are sharing a few things for intense 'research'! Charred Prawn with cocktail sauce and shredded lettuce yummo!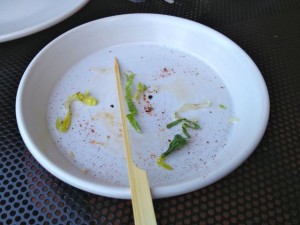 Oooops sorry the before shot is better!!!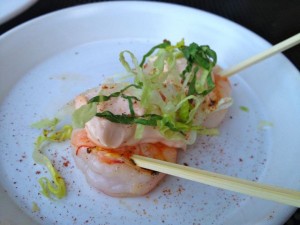 Super fresh lovely charred prawn, perfect mayo-ey sauce and crunchy lettuce – all good!
The Greek Lamb Meatballs are divine! Absolutely delicious, tasty, herbs, perfect!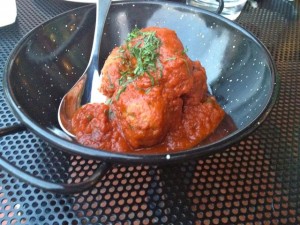 We nearly forget to order the cider battered onion rings that I was eyeing up for 10 minutes on the menu – phew! Good save because they rock my world!!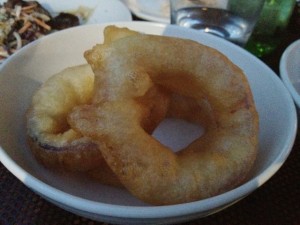 But stop everything! The 'Cheeseburger, dill pickles' looks, tastes, smells…. oooohhhh everything!! Super meaty, super briochy bunny, super aaahhhhhh!!!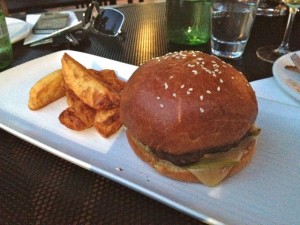 And the modest Chargrilled Scotch fillet with radicchio slaw, also looked good, would prefer 'rarer' but hey I like my meat to bleed!! But super tasty, super yummy!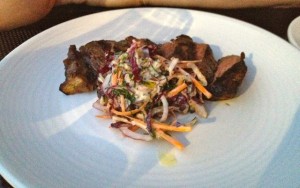 And finally my rather lovely Pulled Lamb with borlotti beans and feta, a generous portion that would be great to share – just so you can all tuck into lots of lovely dishes! Amazing lamb, bit nuggets of salty feta + Happy!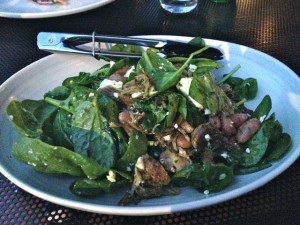 All in all a good night!
THE HIGHS: Great food, good wine, Onion rings!
THE LOWS: Quite Loud (Nana!!) Took a bit of time but we weren't in a hurry!