We have spent a few lovely lazy afternoons at the Waterfront in Port Melbourne. The setting is pretty special with a comfy, beachside feel and though on the pricier side it is always an absolute pleasure to be there… until today!
I don't like writing anything negative about a place, especially as it is only based on my experience that day and everyone can have an off day but lunch today was really disappointing. The atmosphere at the restaurant was quite different and it didn't feel like the top notch seafood restaurant that it used to be, the service was pretty average, the food was not good and I was glad to leave!
It wasn't particularly busy and we got a nice seat over looking the water, the staff brought over a wine list and we ordered a lovely Innocent Bystander Pinot Grigio to drink as we relaxed over lunch… we waited so long to put in our order I actually regretted getting a bottle as we would probably of just had the one glass and left without food.
But bottle on the go we get into the menu and there is a fantastic sounding feasting of seafood as well as some good sounding mains with your traditional fish and chips, steaks, salads, platters…. it all sounds lovely.
We go for a mixed dozen oysters and a couple of main plates to share.
The oysters are half Sydney Rock and Half Pacific, not that we were told which was which when they were plonked on the table, I did ask another staff member which was which and she confidently explained that the smaller ones were one sort…. they all looked similar sizes to me … bits of shell, not much juice and just not great 🙁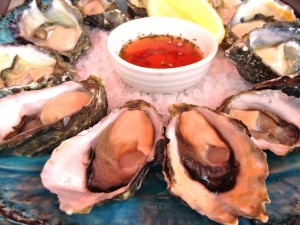 The mains arrive and the grilled swordfish with a Queensland tiger prawn, black and white sesame seeds and vietnamese salad looks pretty good.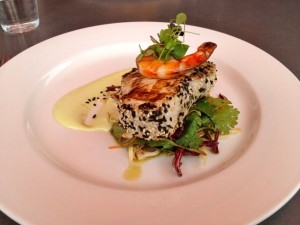 The fish was cooked well, the single prawn is nice enough and the salad is ok.
The Crispy battered King George Whiting with thick cut chips and tartare sounded fab, but when it arrives it all looks a bit average. The chips are pretty poor (hubby described them as oven chips), the tartare nothing special and the fish is completely underwhelming. With a price point of over $30 I expected the best fish and chips ever… I didn't get it. It was a generous portion but the three pieces of fish just didn't do anything for me.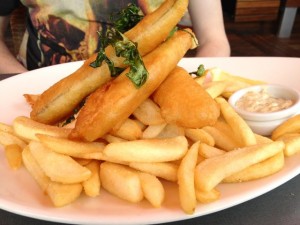 My husband was pretty unhappy but it wasn't worth complaining about – it just wasn't a wonderful lunch. Tomorrow is another day and it could be a completely different experience for someone else – I doubt I will go back. But the other comments on Urbanspoon paint a very different picture – I obviously was just unlucky!