I don't think I have ever had a bad time at Hotel Lincoln and I have certainly never had a bad meal there. Around since the 1850's Hotel Lincoln is a good bar, great pub and gorgeous restaurant. It's quiet for lunch and that's probably not a bad thing as we giggle away and catch up!!
The decor is cool! It feels decadent but not over the top, comfortable and a nice place to be. The staff are just lovely and are experts in the art of telepathy! They know exactly what you need and when you need it! They are helpful, accommodating, knowledgeable and nice!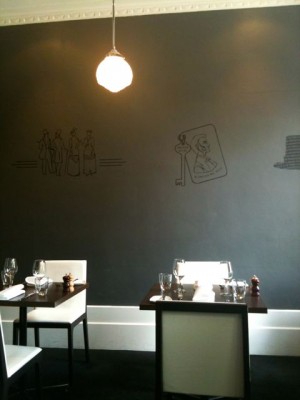 We opt for the charcuterie and the oysters, a dozen little creamy, salty gems arrive with lovely fresh lemon and a green chilli chutney. I am in heaven! One totally natural, one with a touch of lemon and one with the chutney – AMAZING!! I don't usually bother with anything on my oysters but this chutney is damn good! YUMMMM!!!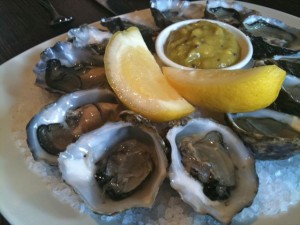 The charcuterie is superb!
Duck rillette – so gorgeous, rich, earthy, delish
Port wine prunes – enough said!
Wagyu bresaola – stunning
Chicken liver parfait – the best, get a room!!
Cornichons – always good
Grilled spiced chorizo – OUT OF THIS WORLD and team it with the…
Apple salad – OMG!!
Jamon Serrano – Amaziballs!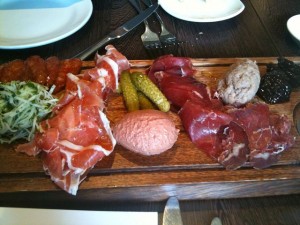 Couple with a fantastic Pikes riesling and we are happy campers!
The Service really is good, no pushing for orders, or get more wine just lovely relaxed enjoyment!
The menu is tough, there is too much good stuff to choose from! I go for the 'Slow cooked goat, green olives, preserved lemon, cous cous, harissa' it is a cold Summers day in Melbourne and this is perfect. Delicious goat falling apart in the herbs and spices. The Morrocan flavours are wonderful and the fresh coriander brings it all to life – totally amazing dish.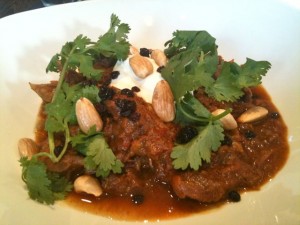 I do get total food envy from my fellow diners 'Rabbit, bacon & prune pithivier, carrot purree' and 'Roast kingfish fillet, pumpkin, chorizo, confit garlic' – everyone is very happy and the conversation stops as we all tuck in… just yummy noises for a short time!!
We also get a tomato, basil and olive salad. Fresh, tasty, amazing! You can't make a tomato taste any smarter!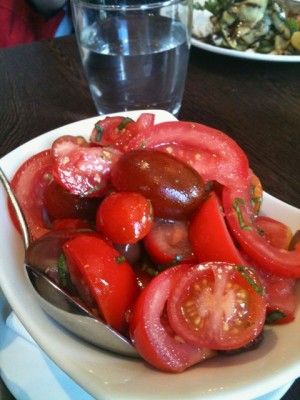 Hotel Lincoln you should be very proud! You are great!
xxx
Visit Hotel Lincoln