I love The Crimean!! Great place, great restaurant and amazing food!!
What sort of food is it? The website explains this the best way;
"The food of the countries that encircle the Black Sea is a complex mix of styles, flavours & cultures. Every cuisine has it's own favourites and specialities. At the same time, the influence of the all encompassing Ottoman Empire and Russia brings cohesion to each different regions take on a dumpling or a stuffed vine leaf.
From the fragrant saffron and spices of Georgia, to chubritsa (summer savory) a herb that seems to only be used by the Bulgarians, the food is truly diverse. We don't try to do a single style of food, we'd rather have fun, and dip our hats to all of the great countries, cultures and foods."
And Fun we have!!
First up is a palate cleanser, super green shots with celery and dill – very yummy!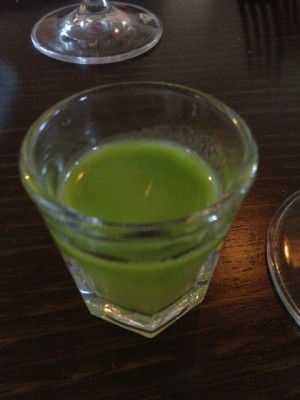 We HAVE to try some of the dumplings and we get two generous serves to share around the table. The Cabbage and mushroom 'vareniki' with cauliflower puree and pickled cabbage and amazing!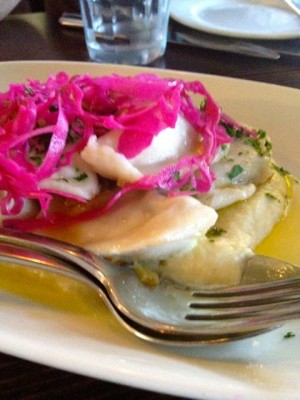 Lovely soft, floppy dumplings with great textures and tastes and I loved the pureed cauliflower – yum!!
The Chicken Kiev croquettes are really, REALLY good! Super crunchy with gorgeous oozing garlic butter hidden inside! Sooooooo good!!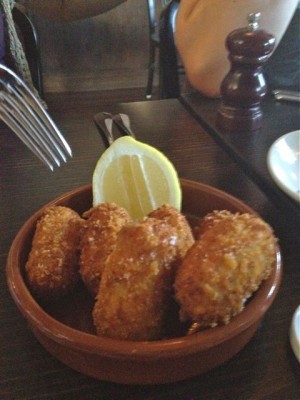 Plenty of smiles around the table and I am loving my 08 Marof 'Beli Kriz' a Laski Riesling from Prekmurje, Slovenia …. almost too good!! The boys are enjoying some super cold beers including Budvar Budejovicky from the Czech Republic and Zyviec from Poland. Are we having fun yet?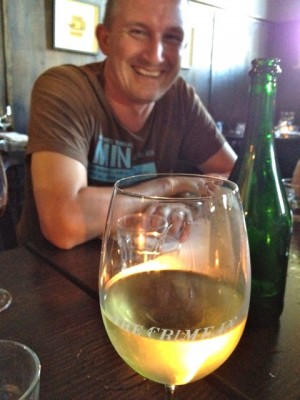 Mains all sound amazing, the menu is amazing! And everyone at the table orders something different! Testament to how good a choice and how good it all sounds!
Yummy noises have already started from across the table with the 'House smoked salmon fillet with shaved heirloom radish, potato, egg and kefir dressing'. I get to trade a taste and it is gorgeous, great depth of smokiness and gorgeously fresh fish that has obviously been prepared with love!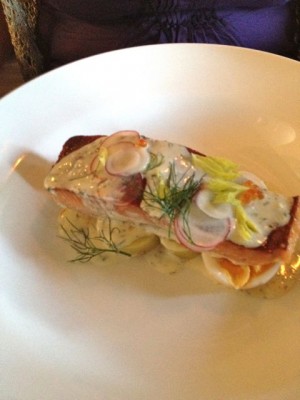 Always lucky when you are sat with a happy group of peeps who love to share! I am already onto the next plate and sampling some 'Chicken Tabaka – Georgian roast chicken with potato, carroway nokedli and leek vinaigrette' The nokedli similar to a little crispy gnocchi was yummy and succulent, aromatic chicken – seriously good food!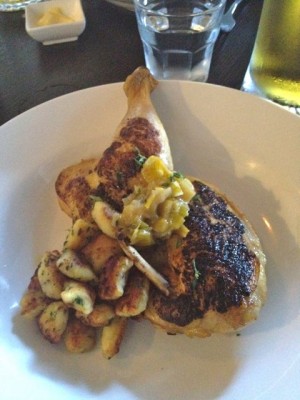 The 'Bigos – Polish Hunter casserole of housemade pork sausage, smoked pork belly, braised pork neck, juniper and sauerkraut' sounds like a massive dish but it is a good portion with a taste of everything and by all accounts a great dish!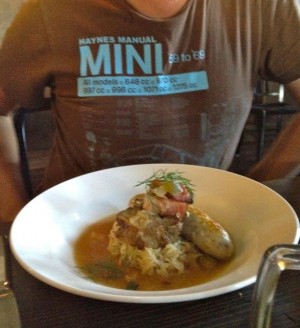 The staff are lovely, from the lovely guys who sorted out our table to the fantastic service we had all night from our lovely waitress – there is a really good vibe here and when you gaze around the restaurant it is nicely filled with people having a really good time!
My 'Yoghurt marinated roast milkfed lamb with green sauce, roasted heirloom carrots and honey lentils is gorgeous, couple of pieces of lamb cooked on the bone and served on a super fresh green sauce with mint and lemon works beautifully. Delicate carrots and tasty lentils.
My friend Darren asked me to make sure I quoted him on this one "Great food, s*** company" I think he was kidding… about the company!! He definitely liked his 'Gulyas – Hungarian Goulash, Beef rump cap with bell peppers, carroway, paprika, potato and carrots. This is super, gorgeous, red and thick! The meat just falls apart…. divine please pass the bread to make sure I mop this up!!
No time for dessert today but I would have loved to try the Doughnut Mix – Maraschino custard and apple puree doughnuts and the Crimean Mess with sour cherries and walnut brittle…. WOW We really missed out!
Oh well we will just have to come back very soon!!