Friends of mine is a lovely place! The staff are so sweet and nice, coffees, water, menus – all delivered with pleasure!
The coffee is fab, I had the dangerous second and even though I will be bouncing off the walls they were just too good not to indulge!
The menu is a great mix of breakie dishes with brioche rolls with bacon and chutney, eggs benedict, toasted banana bread and the 'Hung over' – herb and cheese bread, poached 'googies', bacon and avocado… one of everything please!!
Sadly no! But I do go for Mr Jones golden 'folded' eggs with fresh herbs, goats cheese 'capri' and whole grain toast – perfection!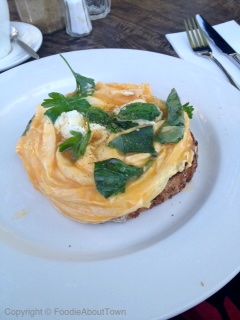 Rocking my world! The eggs are that perfect balance between still runny and not over cooked – not to my friends taste but I am in heaven! The goats cheese is stunning! – A perfect breakfast!
My friends Smashed Avocado with thyme buttered mushrooms, marinated feta and basil looks equally superb!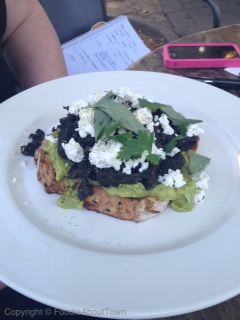 The lunch menu includes curry beef croquettes, scallops, Pork with sauerkraut and 'Real men eat quiche' !!! Enjoy with a glass of Louis and celebrate the joys of life – good food, good times!