A busy lunchtime and we are torn between Huxtaburger and Huxtable…. Huxtable wins today we are feeling like spoiling ourselves a little!
Huxtable is pretty small, the completely open kitchen takes over the left corner and there is seating all around for everyone to admire the genius' at work. We are happily settled at a table and the round leather chairs are really comfy!
A glass of Adelaide Sauv Blanc and we are into the menu which is a wonderful mix of dishes that seem to pick up influence from all over the world and come together beautifully. Small bites for everyone to choose as many as they like across oysters, 'crisp filo log of lamb puttanesca, lemon yoghurt ' and 'tempura eggplant prawn fritter, shiso'. I could have easily tucked into one of everything they sounded so good.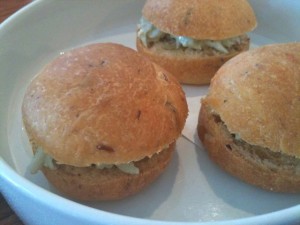 We go with a special XO Bun with crab and lime each which is fab, soft pillows packed with fresh chilli and lime – Just gorgeous!
The Tom yam school prawns are amazing, a bowl piled with little shrimps all crispy and tasty, tuck in and eat the shells, the head, the tail – they are so yummy!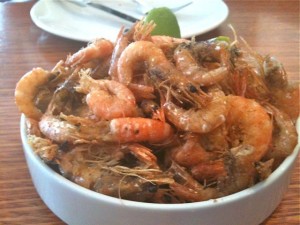 Little squeeze of lime and we are all tucking in and licking our lips! Next up are the, to quote "Great big crispy balls" the jalapeno & cheddar croquettes are stunning! Gently hum of the jalapeno and cheese are gooey, creamy and just amazing!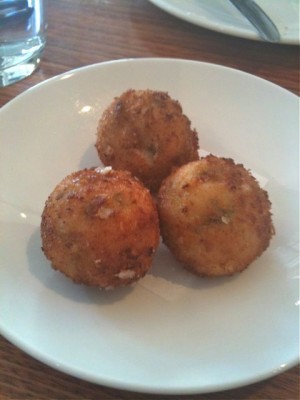 Mains are divided into sharing plates of Sea, Land and Earth, a wonderful selection including tuna tartare, beef tartare, gorgeous salads and roast quail YUM! We go with a serve of the ceviche of scallops & snapper speckled with chilli, lime and herbs. It is a generous serve is super 'meaty' fish with just a perfect amount of chilli and lots of fresh lovely lime – Absolute star of a dish!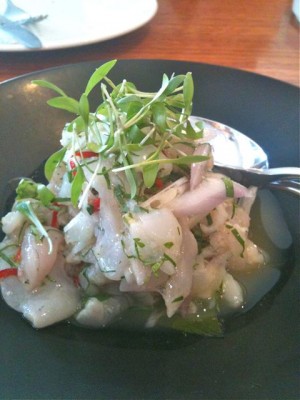 BUT hold the phone, get a room, infact get your own portion – the Korean bbq pork ribs with lashings of spicy slaw and a chilli gherkin are heaven! The ribs are succulent, crispy, super spicy and just amazing, The creamy slaw works perfectly with the heat – I am in love!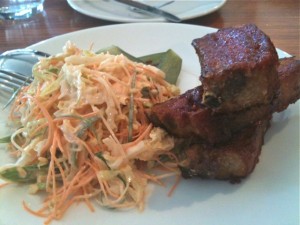 To finish off, we enjoy a wholesome dish of Lebanese cauliflower with harissa yoghurt and dukkah, I am not sure if they roast or carefully fried the cauliflower but it is divine! Spicy, nutty, creamy luscious harissa yoghurt, the flavours are just amazing – would be great in a wrap as an amazing vegetarian snack YUM YUM YUM.
The vibe is great, the staff are lovely, the water glasses are always full and the bread and butter are both free and just gorgeous!
And if you are lucky enough to sit at the bar around the kitchen you can rest assure there is a place to hang your bag and a place to rest your food comfortably!