SUPER cool, I'd get Naked for Satan anyday!! Well…. in exchange for lots of lovely pintxo's!
It's a brilliant interior, dark, moody, quirky and fun! Grab one of the tables, couches or corners and take a moment to absorb the details around you, empty Absolute bottles caged to make lighting features, cute mirrors with pictures of gorgeous girls calling for vodka or pintxo's, naked pictures from what looks like your Grandad's Playboy and just a level of super cool-ness!!
Okay – so pintxo's are … cue Wikipedia;
"pintxo (Basque: [pint?o]) is the name of certain snacks typically eaten in bars, traditional in northern Spain and especially popular in the Basque country. They are usually eaten in bars or taverns as a small snack while hanging out with friends or relatives; thus, they have a strong socializing component, and they are usually regarded as a cornerstone of Basque culture and society. They are related to tapas, the main difference being that pinchos are usually 'spiked' with a skewer or toothpick, often to a piece of bread. They are served in individual portions and always ordered and paid for independently from the drinks. It is not impossible, however, to have the same item called "pintxo" in the Basque Country and "tapa" elsewhere."
It is a great concept, yum cha for sandwich lovers!! The pintxo buffet is at the bar as you walk in and you simply grab the tongs, grab a plate and load it whatever takes your fancy. Grab a glass of cold cider from the lovely barman and you are set for multiple mouthfuls of fantastic food!
There are also special pintxo's coming around with the staff and though there was a distinct lack of croquettes in the time we were there I was no where near going hungry!
It is a great food experience, if you sit and take your time over each one the flavours are all amazing, you can also stuff them in whole and ignore all of that and you will still be happy and full. But I did think about the guys in the kitchen and how serving these tasty little toppings all day might become monotonous but you can tell that like any other dish these little tapas have been lovingly created and selected to work wonders with your tastebuds.
So here we go, my pintxo's were;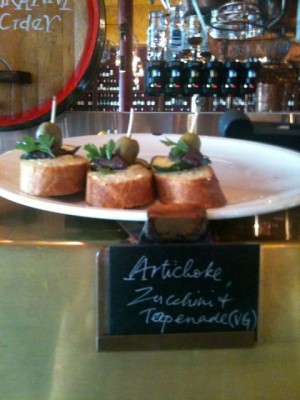 Artichoke, zucchini and tapenade with a lovely big green olive – really interesting, great flavours, fresh and lovely – it is a bit dark in some of the areas so if you eat with all your senses my eyes were struggling on this one but regardless of whether I could name all of the flavours it tasted FAB!!
Veal Schnitzel and salsa verde – salty salsa verde with crispy coated veal, yum! Mini schnitzel sandwich – happy!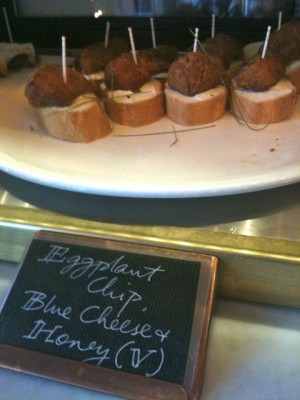 Eggplant chip, blue cheese and honey – WOW so simple and small but amazing, the eggplant was coated in a crispy polenta jacket and was still lovely and soft inside, the blue cheese was perfect and then a little ting of honey – Genius!!
Smoked chilli mussels with chickpea – wholesome, hearty! First mussel in a long time (past issue with a mini crab infestation!!) and he was ok, good mix with the chickpea paste and capers
Cauliflower, manouri cheese and garlic prawn – gorgeous soft fresh cheese with cauliflower mixed in (I think!) and then lovely garlic prawns – enough said!!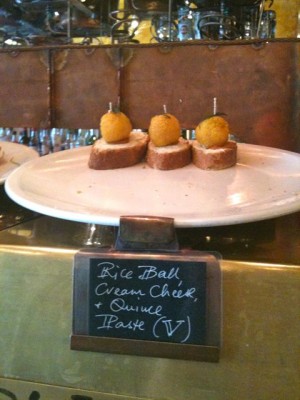 Riceball cream cheese, quince paste – loved this little rice ball – could happily eat a bowl full of them! They weren't heavy like a risotto ball, more a light wafer thin crispy coating and a light inside.
Seems like a lot but I only redeemed $6 toothpicks! – At Naked for Satan you help yourself from the smorgasbord of pintxo's and then at the end of it you take your shot glass with all of the toothpicks that were speared on the pintxo's and that's how you pay AND 12pm – 4pm weekdays they are only $1!! (normally $2!!) So six dollars of fun! Impressed to see an honesty system can still work in this day and age!
Check out the new Rooftop Bar Naked in the Sky too!