High Street Northcote is a great place to eat! There are so many cool little places serving up great food and Chowhound is no exception. Heading to a gig at Northcote Social Club and this is a great stop off for dinner.
There is a good list of sharing plates as well as some great sounding mains and a reasonable kids menu!
The restaurant is a bit of an odd one (in a nice way!), the name and outside suggest a cool kinda café style dining experience, the décor inside is part Greek and part cool! Mis-matched coloured chairs, booths and an amazing wall of wine along with touches of Greece with a large wall feature and some cute Mediterranean paintings! There is also a nice outside area out the back for those warm nights!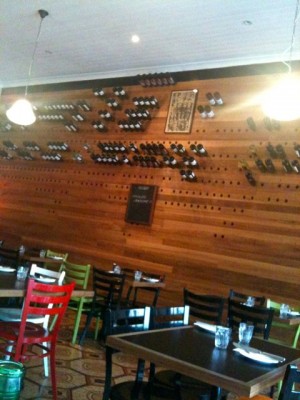 We are happy to get a few plates to share and we are not disappointed. The gorgeous garlicky Turkish bread arrives whilst we are choosing from the menu and it is super!! Glistening and toasty it is the garlic bread of champions!!
Speaking of which so are the beef meatballs!! Amaziballs!!!! Made with love, slow cooked to meatball perfection! There are juicy, tasty and the tomato sauce is rich and just how meatballs should be! They arrive sizzling to the table and you can use a little of that garlic bread to mop up the sauce… if you haven't finished it already!!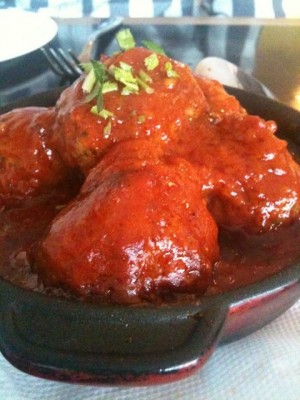 The kefalograviera – gorgeous grilled Greek cheese with a little lemon and mushrooms a la Grecque style OH WOW I love a bit of grilled cheese!! It is super grilled cheese tasting, thick, oozing on the corners and downright goooood!!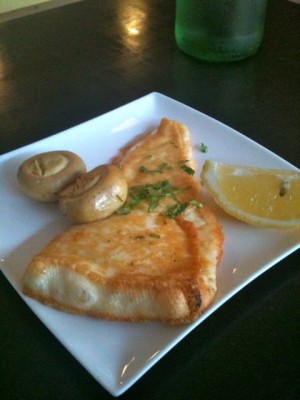 We get a green salad to balance out the naughty dishes and it is generous, fresh, bouncy, lightly dressed and just how it should be! The fish cakes with barramundi and prawn are bit hearty and really nice. Lightly curried and served with a great tomato chutney it is a robust and enjoyable dish with our salad.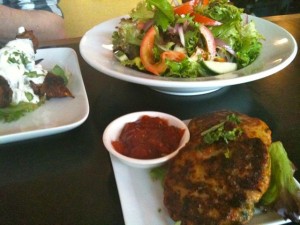 The chorizo and lamb skewers are our final plate and we have probably over ordered… so unlike me!! The skewers are a good serve is cubed lamb and slices of chorizo grilled and served with a good slathering of yoghurt.
The staff are lovely, the vibe is good and as we are leaving there are plenty of tables taking their time and enjoying all the fun of Chowhound.
Will see you next time we head over for a gig!!