Head down Power Street and in a pretty red decorated windowed building is the lovely Momoco Ni Sushi restaurant. An obvious favourite with the locals, we grab a table and go through the extensive menu. There is plenty to choose from including lots of lovely sushi, sashimi, handrolls, hot dishes and old favourites.
The chicken gyoza are a big hit! Floppy and slippery lovely pockets with rich, flavoursome chicken with something a little extra in the mix to give it an extra flavour!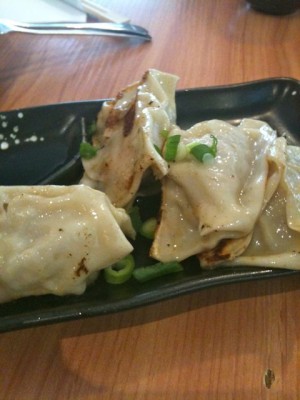 Very , very yum!!
The sashimi plate is super fresh and super gorgeous! Nice portions of tuna, kingfish and salmon with a little wasabi and soy YUM-Tastic!!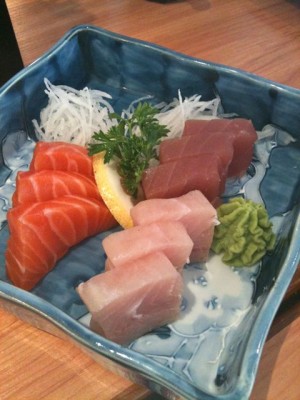 So pretty! The Sushi plate is just as gorgeous with a generous serve of mini hand rolls and nigiri sushi with lots of lovely fresh salmon and tuna. You cannot fault the quality of produce here OR the speed they are getting the dishes to our table.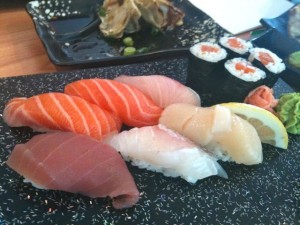 The meijii roll is STUNNING! Fresh mango, roast duck, avocado and mayo rolled in egg skin – so good, the mango gives it all a light fresh zing and the whole dish is just amazing with a sneaky touch of kewpie!!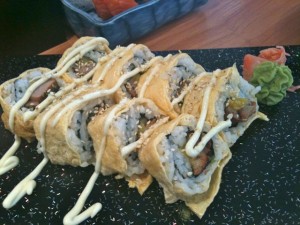 The okonomiyaki – japanese pancake with mayo and bbq sauce comes with either chicken, seafood or vegetarian and even though it has a warning to allow up to 15 minutes it is there in a flash.. and eaten nearly as quick….. mouth watering!!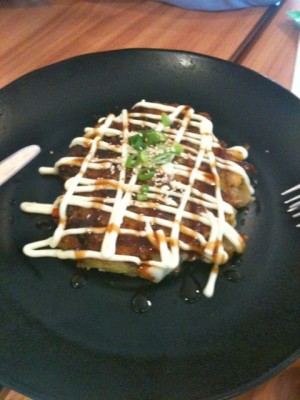 Absolutely great food, great place and lovely staff – we will be back very soon and bringing all our friends!
But if you can't stay the take away Bento Boxes looked quite spectacular!!