The 2012 Cookbook Challenge – at least one recipe from one book, every week, for the whole year!
Week 2 – Book 2 – Paella by Alberto Herraiz

Recipe counter: 11
Recipe 2 – Paella Rice with meatballs and haricot beans

The ingredients are a bit of a strange mix – turnip, beef, paprika, beans, hazelnuts, stock… but it works! The meatballs are fabulous! I did end up doing pork and veal rather than pork and beef but they work brilliantly!
It tastes fantastic, I like that all the reicpes are for serving two people and they are simple! I have always stayed away from paella as this labour intensive easy to mess up dish but these recipe are genius! The two I have cooked have taken 5-20 minutes on the hob and then 12 mins in the oven to perfect – I am feeling like a Paella Champion!!
Recipe 1 – Rabbit with Sherry Vinegar Paella

Gorgeous book, wrapped in it's little cotton sleeve! Part of a beautiful present from a recent birthday, an entire Paella kit including a gorgeous new pan, funky red plates, saffron, paella rice, sherry vinegar, paprikaaaaaa – just gorgeous!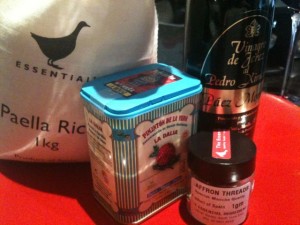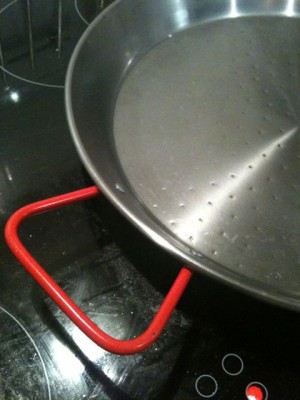 The recipe was much easier than I thought it would be, brown a few bits, mix in some amazing flavours! De-glazing the pan with the sherry vinegar creates an amazing smell in the kitchen and then adding the real deal paprika makes it go crazy!!
Supposed to add snails but they weren't so easy to locate! I don't think it missed it too much! Got to use my cool new garlic crusher too! The 'Rocker' rocks!!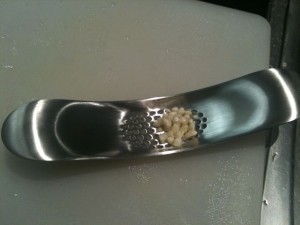 The final result was pretty good! Really rich flavours that will definitely be coming back to a pan near here very soon.