Rough around the edges just like all diamonds to start with! This is 'fast food' at it's finest! The Middle Eastern Bakery has got it all going on! Grab a coffee and some Baklava, grab your groceries for the week, grab some fresh Lebanese breads and grab a table for lunch… thats a whole lotta grabbin'!
The menu is up on the board, they don't do a lot but what they do do is bloody good! Falafel, pizza, spinach triangle and variations of all! not white table cloths here, infact no cutlery required just grab your napkin and get eating!
The falafel platter is great, four crispy, crunchy falafel with a smooth chickpea filling. Served with bread, salads, gherkin and pink turnip you can make yourself up a little falafel wrap and don't forget to dip it in the gorgeous tahini sauce – YUM!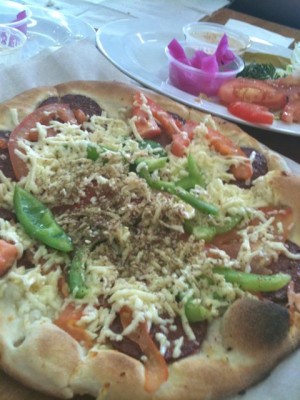 The A1 Special Pizza is a meaty treat with plenty of spicy slices, cheese, capsicum and is just great, the shishik pizza is equally packed with lovely meatiness and with a kind of ricotta / feta and spinach and olives – just wonderful!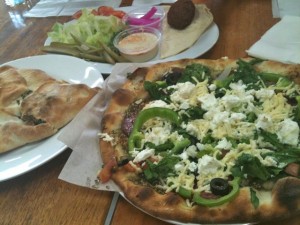 The spinach and cheees triangle is a fluffy, crispy pastry cushion filled with earthy spinach and the feta / ricotta cheese and is divine!
A1 bakery is cheap, easy going and fantastic food on the go!