Can Smith Street get any cooler? I find myself drawn here every week to try another brilliant place to eat!
Easy Tiger is pretty special, there is a homeliness and comfort whilst looking super stylish! The welcome lily flower tea settles you in to browse through a wonderful menu with street food bites, salads and curries. The banquets sound really good and very reasonable but we are creating our own tonight! CLICK HERE for menu.
The street food list is all too tempting so ……. we get them all!
Taro crisps with chilli salt are gorgeous, we are happily tucking in whilst we get into the 2011 Valere Riesling, winemaker Mr Valentine's first baby is wonderful!!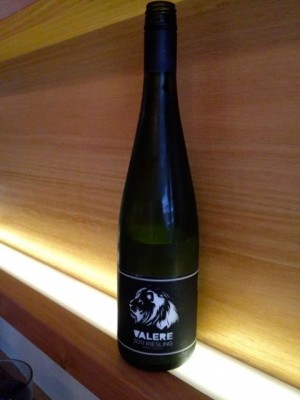 The guys here are so lovely, there are genuine smiles and passion for the food they are serving and they are just quietly ensuring everyone is well looked after, glasses are full and plates are flying out of the kitchen!
The Ma hor, prawn, pork & chicken mince cooked in palm sugar, served on watermelon are a little mouthful of sticky yumminess!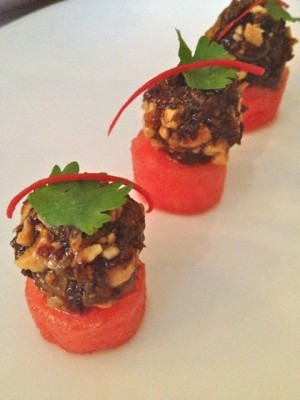 The freshly shucked pacific oyster with coconut & lime dressing is stunning! Expertly shucked and dressed with a tangy, creamy dressing and lots of fish roe popping in your mouth!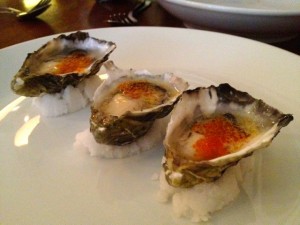 The betel leaf with prawn, peanuts & fresh coconut chicken are the best I have ever had! A generous serving, piled onto it's little leaf, it is juicy and crunchy and totally wonderful!
Another immediate favourite is the Shitake mushroom & water chestnut spring roll, I forgot we have ordered them! And when they arrive they are so good! Earthy mushrooms with crunchy chestnuts in a crispy cigar and a tangy dipping sauce hmmmmmmmmm!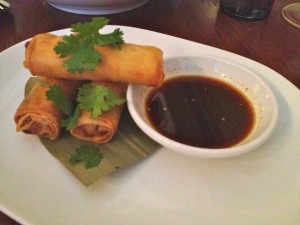 The classic thai fish cakes with sweet chilli sauce are great, crunchy, tasty, lovely, lovely, lovely!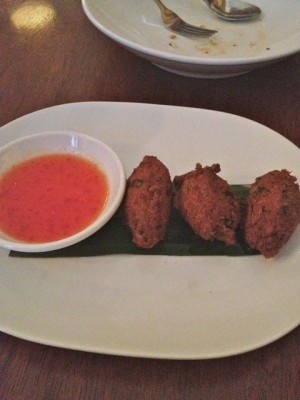 Sashimi of ocean trout with green apple & black bean dressing is impressive, perfect slices of super fresh ocean trout with the tartness of the apple sticks and crunchy rice and the dressing – it's a fabulous dish!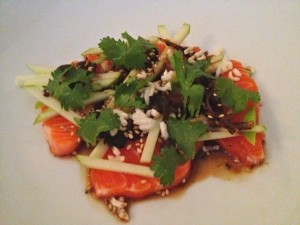 Our final dish is the grilled chicken & coconut salad with thai coriander, fresh lime & dried chilli and rice, it is stunning! There is nothing bad you can say about the food here, it is just amazing! The chicken salad is a fantastic party of flavours that make every mouthful a joy! I think this one could be my new favourite!!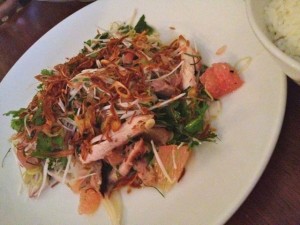 Just a wonderful night, the bill is surprisingly low considering we have eaten ourselves silly and the little Easy Tiger rock entertains us no end – is is chilli rock?!?! It seemed to get spicier!!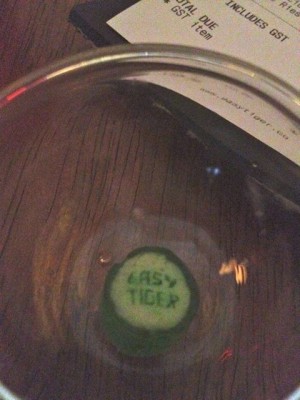 This is a wonderful addition to the amazing places to eat on Smith Street…. again we are thinking we should move – it would save on cabs!!