Friday nights should be about a good glass of wine, some great food and good friends!
Red Spice Road is the perfect setting! Made for communal tables of 2 to many, a fantastic choice of sharing plates and a good wine list = Happy!
When I suggested we go here the resounding response was "Pork Belly!!" More on that later! The setting is gorgeous, it is a big space but they have made it work with clever hero elements like the big red 'balloon' that the centre part of the restaurant might just one day float away on! There are some serious paintings a la Poh on the back wall and with the dark heavy wooden furniture that are honestly pretty massive, it all comes together as a fantastic place to be!
Menu is all about sharing, lots of small elements to mix and match, oysters, ribs, prawns, pork buns – something for everyone and you can have create you own combo with the parts you like!
My friends go for the 'Betel Leaf with Spanner Crab, Mint, Chilli & Crispy Shallot' which I have had before and know they are a little leafy parcel of heaven, fresh succulent crab with all the flavours to rock your world in a little Betel leaf!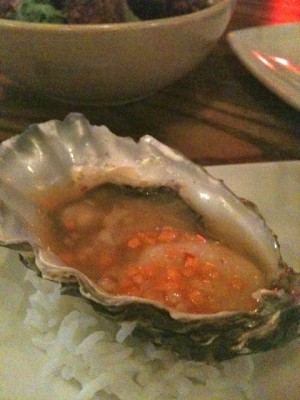 The Oyster with Nuoc Cham Ban Cha is fantastic, over all too quickly but fantastic, perfectly shucked, great flavours, works brilliantly!
The 'Twice Cooked Lamb Ribs with Chilli Jam' help with Hubby legendary New Year's resolution to eat more ribs!! They are an absolute favourite! Super succulent with a dry, spiciness to the outer and the meat is just falling from the bones…. gorgeous!!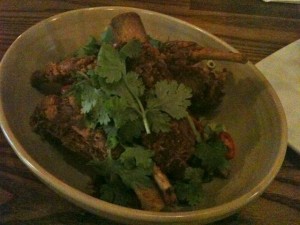 'Sweet Corn Fritters with Ginger Sweet Chilli' Are another fave! They are fantastic, big generous balls packed with flavour, seriously delightful!!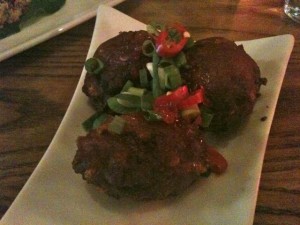 But hang on…. the 'Watermelon topped with Shredded Pork, Prawn Relish' sounds a bit odd and it is but OMG it works brilliantly! The watermelon acts as a big juicy, fruity cracker with the most amazing pork and prawn topping and the strangely wonderful pork floss too! Lightly spicy, sweet and deep….. WOWOWOWOWOW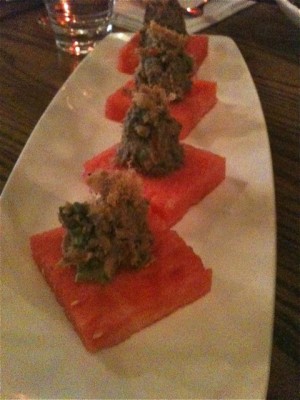 Not bad for entree's!! The mains arrive a bit too quick, we are still finishing the other dishes and probably could have done with a rest but we can't complain at the big white bowls of curry, stir fry and the infamous Pork Belly that arrive.
The 'Massaman Curry of Beef Cheek, Waxy Potato & Baby Onions' is as expected GORGEOUS! I first tried beef cheeks here years ago and in the Massaman curry they are wonderfully cooked down to fall apart in the spicy, nutty sauce.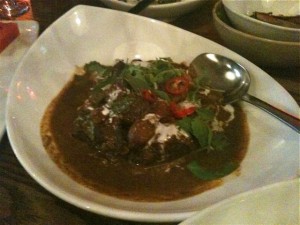 The 'Calamari stir fried with baby corn, sugar peas and chilli paste' is surprising, it looks like the dish is coated in a very sticky sweet sauce that might be a bit much but it isn't at all – it is rich but light and zingy! It divides the table with fans and 'not sure' but it is great, good 'meaty' calamari and light chilli jammy sauce.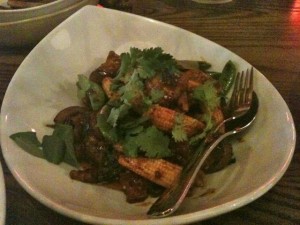 But the crispy, sticky dish of the night is the 'Pork Belly with Chilli, Apple Slaw & Black Vinegar' it is Hero status before we even arrive and it doesn't disappoint! Big chunks of crispy cracking coated slow cooks pork with juicy, moist meat that just falls apart with your chop sticks! You cannot fault this dish – it's genius!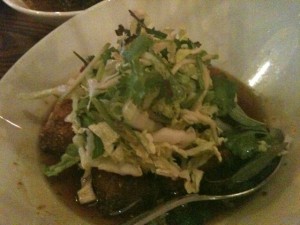 The fresh Apple Slaw is a perfect partner and lifts the dish to another level! Seriously peeps it is going in the top ten!!
Red Spice Road – A great place to be!