Spotted on a recent jaunt down Sydney Road the smart grey building and nice big sign point the way for all the good things I have heard about the Albert Street Food and Wine Store. Step inside and it is cool! Lots of light wood, spots of vibrant yellow, old beams in the ceiling and funky lightshades! The shop is ceiling to floor looking loveliness with olive oils, breads, pickles, honey, wine and a fridge full of meats and cheese!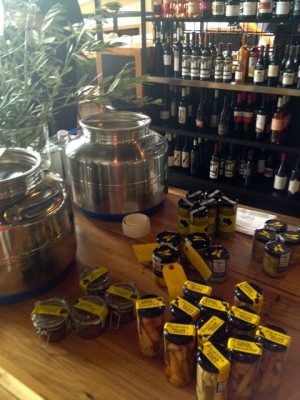 The staff are super lovely! Totally relaxed, bit of humour, knowledgeable and all round masters of great service! The menu is great CLICK HERE! Plenty of sharing plates for me and my foodies and then some damn good sounding risotto, pasta and steaks!
We are sharing up a storm today! We start with the padron peppers all charred and salty – there is a bit of a tussle for the last ones!!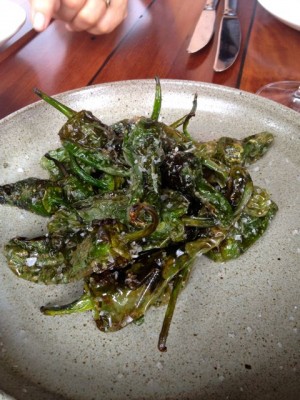 We quickly demolish these until little is left;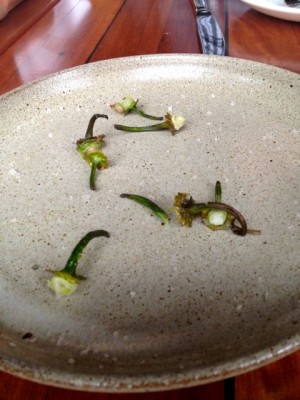 The 'cheesey toast' was a gorgeous morsel of toasty bread, gooey thick mozzarella, basil and a hint of anchovy – just gorgeous!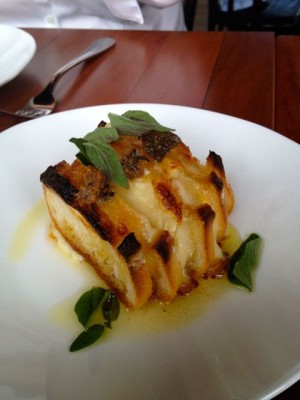 The small charcuterie plate is a good selection and perfect for four of us to have a taste of everything, pork and fennel sausage, bresoala, pickled vegetables and watermelon rind, cured pig cheek … it is just gorgeous! I particularly love the watermelon rind, it is fantastic and we always just throw ours away! I am going to have to track down this recipe!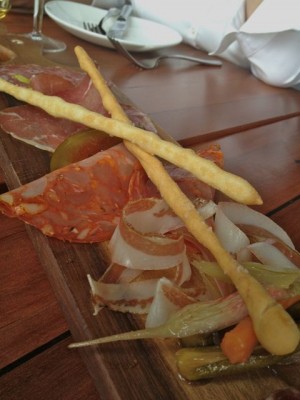 The Bacala with 'green goddess' and toasty bread is creamy, hearty, wholesome delish! The salted cod is whipped up into a taste frenzy and the olive, garlic and potato (I think) is spread thickly onto delicate toast and is going down quite wonderfully with the crisp Vinteloper 2011 Riesling.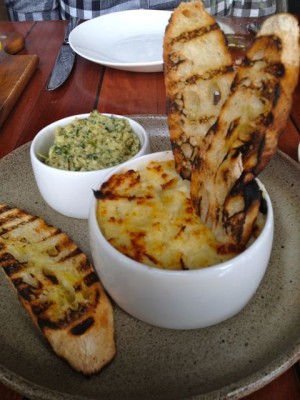 The sardines on thin crispy rye bread are so sweet! I am not usually a huge fan of sardines but these are superb. Perfectly cooked little fillets, delicate and incredibly tasty with a little tapenade and a scattering of pinenuts – amazing!!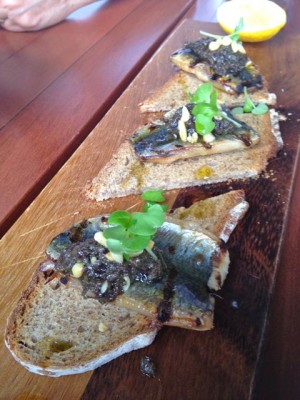 The Tomato Party Pizza is really good! The party is starting on a super fresh soft base, a smidging of pesto, the tomates and the most amazing mozzarella – seriously could have taken myself into a corner and shared a moment with this beauty.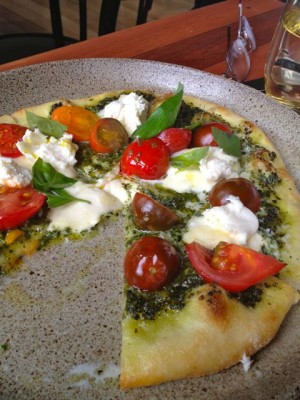 BUT that is nothing to the lovefest that goes on when the crushed kipflers arrive! My friend is making the most 'loving' statements inbetween mouthfuls "I could just take this all home with me", " I wouldn't share it". "Just me, this bowl and the tennis" ….. I think she quite liked it and rightfully so it was the most beautiful mash flavoured with fruity light olive oil and herbs – it is the ultimate comfort food!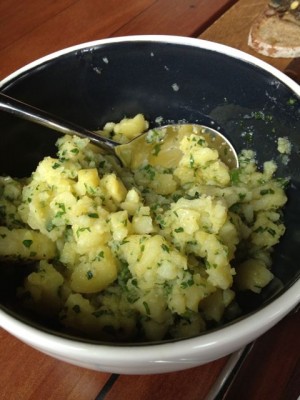 So all round wonderfulness! We have been visiting a few lovely places this month and I was impressed that this one was discussed on the ride home as the BEST place we had been too this year so far! So thanks to all at Albert Street – I cannot wait to get back and spend a LOT more time sampling the amazing menu!