Amaziballs – Fantastic – Love!
So I liked it a little bit..!!
My foodie friends and I are in for a quick lunch and the staff are fantastic at recommending the right amount of food and they are also making sure that service is fast and slick to get everyone back to work!
The crispy chilli salt cuttlefish with lemon and roasted sesame is delish! Lightly coated, soft and subtle flavours. The lemon has a nice little coat on to keep the pips out – love that! The flavours are lovely and we are all happy tucking in!
Son in Law eggs with chilli jam and asian herbs – my first time ever! I love that our waiter takes us through the technique of how to eat this properly. Carefully explaining that we need to get lots of jam and herbs and then the whole thing in our mouth and pop the egg against the roof of your mouth with your tongue!!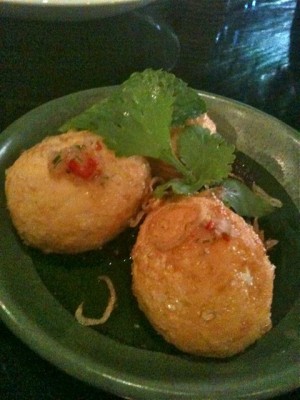 We are all game, the only issue might be a slightly smaller mouth than our friendly waiter! There is a slight moment of panic when I wonder if I have room to chew but I manage to avoid any embarrassing moments and thoroughly enjoy my first egg. It is beautifully put together, I have to admire how they have cooked this little beauty to be sooooo runny and lovely! Hopefully the fella wasn't laughing in the back at us for falling the whole egg in the mouth trick again!!!
The Smashed Green Papaya salad with sticky fried rice is super sweet and sour and fantastic with crispy rice topping, super delicious!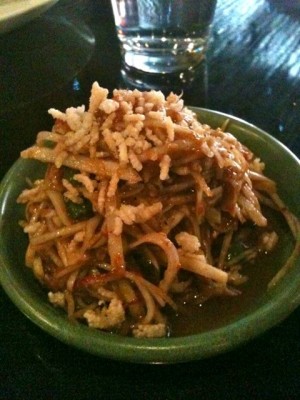 The wagyu and bamboo dumplings with cashew soy are perfection! Delicate floppy dumplings with sturdy tasty filling, the sauce is amazing! I will have to try this one at home!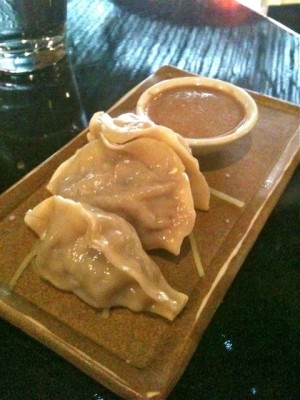 Our final dish is the Crispyfried corn cakes, little bundles of crispy corn loveliness, we have had a wonderful time and I think next time we are coming for the $75 Hawkers Experience and staying for a lot longer!!
🙂