Settled into their new home on Gertrude Street and this end of town just got a whole lotta more funky!
Grab a table, grab your menu and if you can possibly choose between all of the amazing dishes on the list. You order at the counter and within moments amazing food will float in front of you and you can begin a trip into the vegetarian cantina of joy!!
Firstly condiments! There is green and red! They look great!!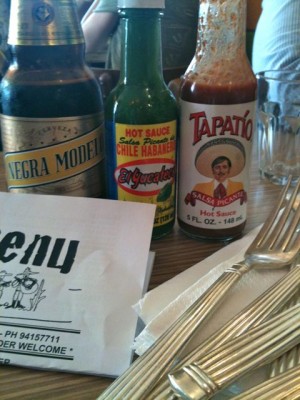 There are also some nice looking beers in the fridge to keep your nachos company!
We order lots and lots for us all to share on our first trip to trippy! Quesidilla, large flour tortilla with melted cheese and salsa, described as a bit like a big cheese toasty it is comfort food-tastic! Heaps of melted cheese and black beans hmmmmm!!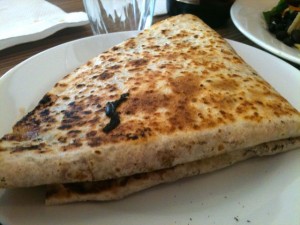 Original Trippy Tacos are fresh, gorgeous corn tortillas with cheese, black beans, salad, salsa, avocado and a squeeze of lime! Yum!! It's a generous serve of super tasty, fabulous taco.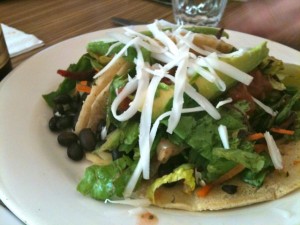 The Trippy Chippies are fantastic and finger dying yum!! Generously coated in the Trippy's special seasoning they are the vibrant red of chilli and paprika and are divine!!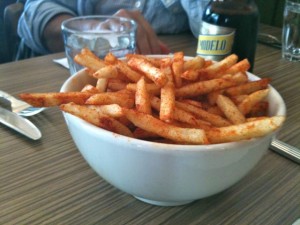 One of my fellow diners is starting to catch on that there is no meat as we head into a big dish of taquitos! Who needs meat? We have gorgeous little black beans and cheese! And some pretty damn good chipotle chilli to add a bit more heat!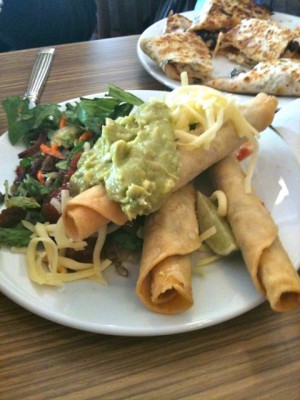 Gorgeous crispy tortilla cigars! tightly rolled up around a filling of black bean pilled on top with avocado, cheese, salsa, salad and lime. The side salad is crunchy, fruity and nutty with pimentos, raisins and what looks like dried beetroot chards – so lovely!!
BUT hold everything! I am a big fan of nachos and I even dare to believe that those dried hard corn chips piled slathered in melted cheese and florescent green avocado sauce are the real deal – Forget about it!! This is one of my favourite dishes everrrrrrrr;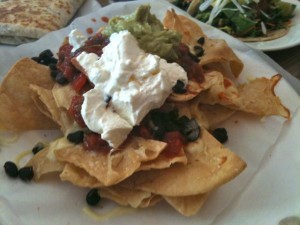 Real corn chips, flakey, soft and crunchy – almost like a dry roti consistency, they ROCK!! Simply topped as they should be with melted cheese, ranchero sauce, avocado, black beans and a generous dollop of thick rich sour cream….. take me home baby!!
Next up Big Boy Burrito! It is a mother!!! Trippy's Original Burrito – large flour tortilla, the adorable black beans, cheese, salsa and salad all wrapped up in the flakey gorgeous blacket of burrito!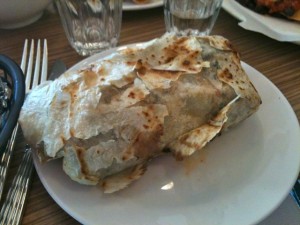 Everything is soooo good here! The menu is great, plenty of choice, great vegan options and extras to 'pimp your Trippy'!!
We didn't even get near the breakfast menu of scrambled egg burritos, breakfast tacos and huevos rancheros OR the Sweets…… Nutella Melt, Nutella Banana Melt, Choc Chilli melt, Choccie Taquitos….. OMG we will be Trippin back very soon!!!!