THIS RESTAURANT IS NOW CLOSED
Sunday Lunch Southern Style! It's a 'muggy' day in Southbank when we seek sanctuary in My Mexican Cousin and it is a good place to hide!
The raw industrial interior and cool black cylindrical lighting are an interesting contrast to the exterior of the Recital Centre with it's smooth and creamy curved finish…. I am not an architect… best move on!!
The menu is exciting! Lots to share and lots to enjoy!
First up oysters – ofcourse! Four creamy beauties with a 'sauce chien' I didn't want to insult anyone with my dodgy transaltions but it is literally 'dog sauce'! Cue Wikipedia;
"Sauce chien – dog sauce is a sort of high-voltage vinaigrette served throughout the French West Indies. How did it get its odd name? One theory holds that the "dog" refers to the fierce bite of the chiles."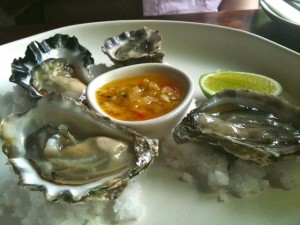 They are gorgeous. The sauce has a good 'bite' and the oyster just with a little lime is superb!
The Baby poboy is OMG Gorgeous! A traditional submarine sandwich from Louisiana with big fat battered prawns, spicy sauce and a touch of salad is soooooo good!! Mouth is watering as I type!!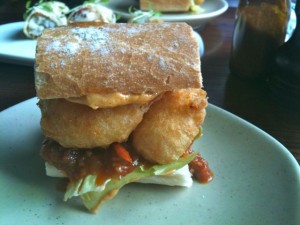 I probably let the chef down attempting to eat this with a knife and fork, my hubby just flattened his and went in!! The baguette was lovely and chewy (in a good way!) The prawns were big and the batter light. With the yummy spicy sauce this is a beaut dish!!
The Crab profiteroles with saffron and seafood cream are toooooo pretty!!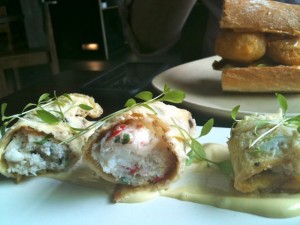 The super light crepe encases lovely fresh creamy crab…. just really good!
Finally the twice cooked short rib with spicy sweet potatoes cubes is spicy and so delicious that falls apart when I split this baby down the middle!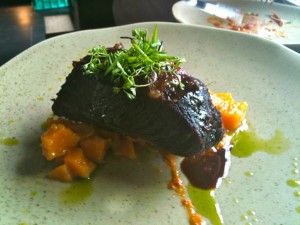 The spicy sweet potato is really lovely, spicy and sweet and perfect with the rich, succulent beef.
Amazing spot, lovely staff and wonderful food, can't wait to head back!