When in need of a good feed and a beer you can pop in here! Ok less of the poetry, more of the food! The bar is spacious and there are some good tunes pumping as we get comfy in one of the many areas to sit.
The menu is good, varied choices across tapas, sharing plates, pizzas and some great sounding mains. The food is coming out of the kitchen and the burger looks really good, as do the parmas.
We opt for 3 tapas sharing plates for $18 and a pizza to share.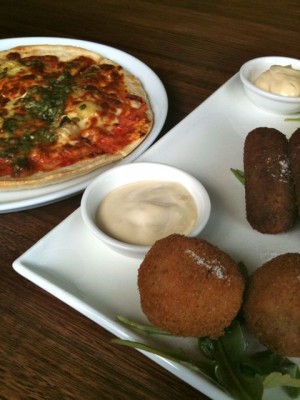 The zucchini & mint arancini balls with blue cheese aioli are yummy, big crispy balls packed full of light, not stodgy rice with a fresh and lovely filling. The salt and pepper calamari with lemon mayo are very lightly dusted and cooked through so they are soft and delish!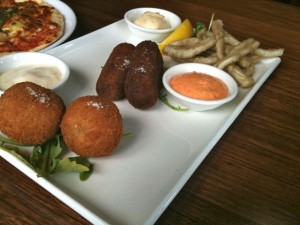 But the absolute standout is the braised beef and chilli croquettes with capsicum aioli – amazing! The beef is super succulent and flakey, packed into a little breadcrumbed sausage. There is a great heat from the chilli and the capsicum aioli, it is gorgeous!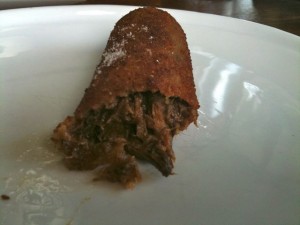 Yum yum yum yum!
The margarita pizza with fresh tomato, pineapple, mozzarella and pesto is fantastic, a dinner plate sized super thin base with a generous but perfectly enough topping. I can imagine this combination might not be for everyone but I was surprised that they had featured a pizza with all my favourite toppings! That's how you keep a customer happy!!
All in all a great spot, plenty of seating inside and out and in the restaurant area, good wine list and great food!