If you can grab one of the tables outside on a gorgeous summery evening you will probably never want to leave! We certainly didn't! Once we have a lovely Dominique Portet Brut Rose on the table and menus in hand we are set for a fantastic evening!
The menu is a great mix of share plates, classics, salads and hearty dishes like 'Beef, Guinness, bacon and mushroom pie'. We are loving our pink bubbles as we select a list of dishes to share in the sunshine.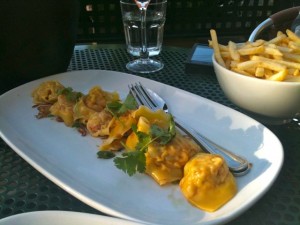 The 'Steamed prawn and pork wontons with spring onion, coriander and soy sauce' are just gorgeous! Soft hankies holding a rich tasty pork filling and a perfect soy dressing – simple and wonderful!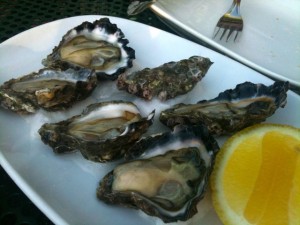 Half a dozen wonderful creamy fresh oysters (not shucked grrrr!!) fabulous with the bubbles!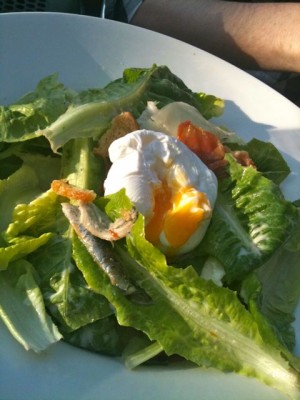 The 'O'Connell's Caesar salad with baby cos, traditional condiments, white anchovies and prosciutto' is a great summery dish, light crunchy leaves with super crispy, salty, meaty proscuitto, a perfectly cooked egg and slithers of lovely fishy anchovy – the perfect Caeser!
The 'Charcuterie plate – terrine, rillettes, cured meats, pickles, chutney and toast' is pretty as a picture!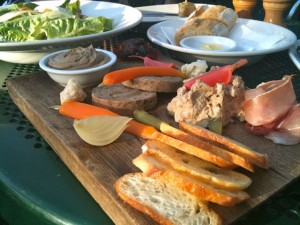 A generous board jammed full of gorgeous treats! The pate is stunning and I can't help but slather it on onto the fabulous fresh bread with the soft butter and zingy chutney… more bread please!!
The pickled vegetables are wonderful with the fresh rillette and crunchy toast and …. sooooo good!!
Another perfect night at O'Connell's, as always the staff are perfection, the food heavenly and we leave with smiles!
Previous Visit – 12th November 2011 – Wonderful Sustainable Fish Dinner

A night at O'Connell's for a sustainable seafood dinner is a special treat, recently landed in the kitchen is Paul Cooper and teamed with Howard Park wines and a fridge full of fabulous fish we are set for a five course sublime degustation.
With our lovely host Pete Dillon and the team from the Australian Conservation Foundation to provide guidance for our night, we head straight in with a 2010 Great Southern Riesling and 1st Course -Marinated Ocean Wave Seafoods black lip abalone, with cucumber, avocado, passionfruit and tempura samphire.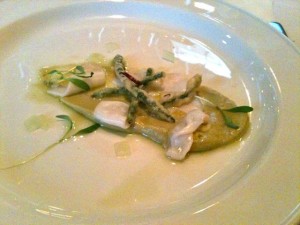 Stunning! My first taste of abalone and samphire and it is monumental! The delicate shavings of abalone are nestled on its avocado pillow with crispy sprigs of salty samphire.
2nd Course is the Sea Bounty Blue Mussel and Goulbourn river Rainbow trout salad, with broad beans, fennel, asparagus, and chilli, mint, & black vinegar dressing. The flakes of smokey trout and mussels are brought alive with the zingy dressing.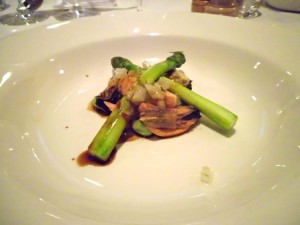 The courses are delicate and light and incredibly tasty, with a Howard Park 2010 Sauvignon Blanc we are heading into the next dish with a chat with Chris from the ACF. I quickly learn that I know very little about sustainability and what choices I should be making to help rebuild our fish stores.
Interesting to know facts such as Orange Ruffy lives for 60 years and doesn't mate until 24 compared to a squid that spawns at 9 months and then dies at 14 months – so the more educated choice is squid all the way!
We also learn about Howard Park Wines and the efforts they are going to reduce their impact on the environment, such as reducing bottles weights, water based inks and 100% recycled packaging. They also 'employ' local guinea fowl to run wild through the vines as natural pest control! And their 2009 Chardonnay is outstanding!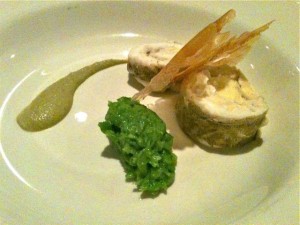 3rd Course is simply described as 'Fish and chips – traditional flavours' Poached Port Phillip King George whiting, salt and vinegar potatoes, cornishons, and peas…… it is so much more! The fish is rolled around a rich luscious butter and is perfectly presented and tastes wonderful. The mushed peas and cornichon puree are clever and beautiful partners with the fish but the 'chips' are a work of art!
We are given a quick insight into the work that goes into the wafer thin shards of tangy vinegary potato. Mashed and then dehydrated whilst adding the vinegar flavours and then placing carefully onto the plate – stunning!
The 4th Course of Wood grilled Gippsland Lake black bream, choucroute, heirloom carrot, artichoke, and red wine béarnaise it matched with a Pinot and everyone is intrigued with the red wine and fish combo that goes against the rules – rules were made to be broken!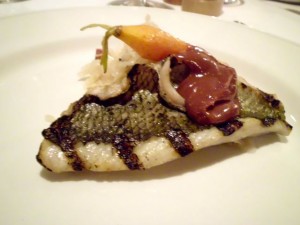 The fish is striped from the griddling and falls apart at the touch, the choucroute is a European edge of cabbage packed with flavour but allowing the red wine béarnaise to steal the show. It works brilliantly with the fish and just exudes a luscious smooth red wine punch with the fantastic fish.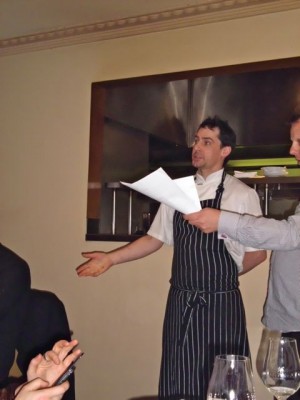 Enter the man of moment, emerging from the kitchen Paul Cooper is just lovely and in no time at all is introducing us to the concept of local rooftop honey used in our dessert. With foreign bees rampaging Melbourne the rooftops are being transformed into honey pots to sustain our local bees and provide fabulous honey for us all.
5th Course is dessert – no fish in this one but we are treated to Melbourne City Rooftop iced honey nougat, bitter chocolate mousse, poached pear and crystallized pumpkin seeds.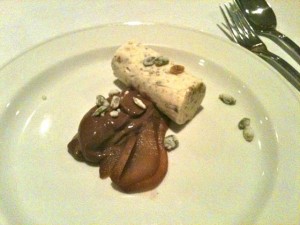 It is the best dessert I have had in a long time, the nougat is wonderfully sweet and creamy with rich, gooey chocolate and firmly poached pears. The crystallized pumpkin seeds are supper crunchy and then sticky and just yum!! Th final glass of the night is the Valdespino Yellow Label Pedro Ximenez – yum yum yuuuuuummmm!!
It has been an absolute dream to be part of this dinner and I can't wait to come back and enjoy more of Paul's food in the sunny outdoor tables or light and air restaurant. The team looking after us have been running out glasses and wine all night and delivering plates upon plates of wonderful food, brilliant!
We are all a little bit wiser and focused on making better choices in order to help sustain our fish going forward, unfortunately we cannot sustain the end of dinner and sadly we do have to go out into the night and promise no more orange ruffy or swordfish will be in our baskets in the future – at least not until they can replenish!
For more information on sustainable fish check out www.acfconline.org.au/seafood and get down to see Paul and the team very soon!