Balmy, beautiful Xmassy Eve and we are heading off to The Commoner for a treat! We enter into the already busy main dining room and it's cozy with an excited buzz of Xmas revellers enjoying some wonderful food.
We head upstairs to the The Long Room which is much quieter and apart from another couple it is just us. The decoration adds a lot of personality to the room with huge billowing curtains, grey and red felt covered benches along one side and a light fitting of rusty barb wire and cutlery adds a slightly barbaric edge!
There is a special Xmas Menu for December with lots of wonderful seasonal dishes and we tuck into house bread with a couple of other dishes of small eats.
The bread is beautiful, fresh sourdough (I think!) with great glugs of olive oil and toasted sesame seeds, yum!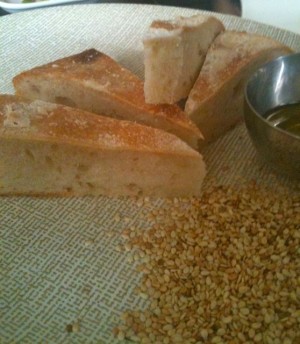 We did have a little debate as to whether you expect restaurants to give you complimentary bread rather than being a menu item that you choose and pay for but to be honest this bread was so beautiful it was worth every penny!
The 'Boccerones– Sicilian White Anchovies on Crostini with Sweet Pepper & Aioli' are fantastic, a little bitesize heavenly morsel of salty, sweet anchovy on a super crusty bed with smooth sweet aioli and pepper.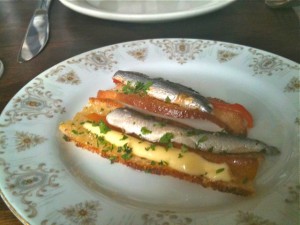 The 'Truffle & Chevre Croquette' is a gorgeous big ball, super thin crispy outer and inside a rich, luscious serve of delicately flavoured rice yuuummmmmmm!!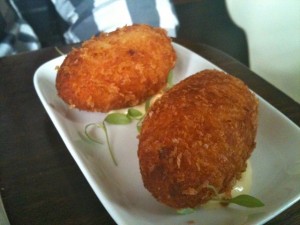 Cracking on into the mains we are enjoying a lovely Pewsey Riesling from Clare Valley and it is working beautifully with the food and warmth of the evening.
The 'Scallops, House Black Pudding, Samphire & Champagne Sauce' is colourful plate of huge meaty scallops with fresh asparagus, green tentacles of samphire and a bed of rich, dark black pudding.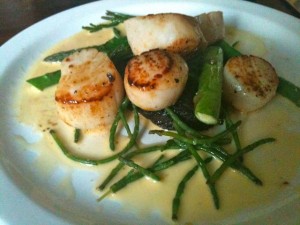 The scallops are perfectly cooked and just gorgeous and they work amazingly with the other flavours on the plate. The champagne sauce is buttery and light and with the saltiness of the samphire and the black pudding is a new fave!!
The 'Wood Roast Lamb, Cracked Wheat Cranberry Stuffing, Juniper Jus' is a hearty serve of beautiful summer flavours with watercress, broad beans with feta and a wonderful bed of jewelled cracked wheat and slices of succulent roasted lamb.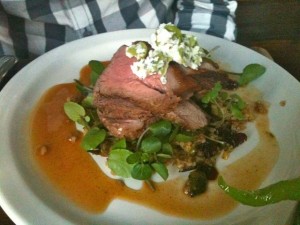 For a side with the mains we have the small plate of 'Richards Surprise Peppers' OMG, amazing!! A silver bowl piled full of pan fried green peppers with garlic, olive oil and salt – simply wonderful!!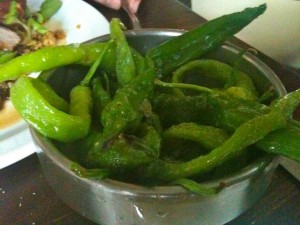 They are a surprise! They are a wonderful surprise and we easily eat them all!!
No room for dessert today and we head back out and home with full tums ready for Santa to drop by very soon! I think I would have preferred to have sat downstairs where there was a bit more atmosphere going on but overall it was great great food!