THIS RESTAURANT IS NOW CLOSED
On a stunning sunny day in Melbourne CBD it is always good to discover a new rooftop with a great bar and really good food! The Aylesbury at the top of Lonsdale is a good looking boy! A smart looking restaurant downstairs and then jump in the lift and head up to the top floor for sunshine and smiles!
The doors open straight into a little piece of heaven, a small bar and kitchen are set up to look after the lucky punters who have grabbed a prize seat on the terrace to view the city and catch some rays.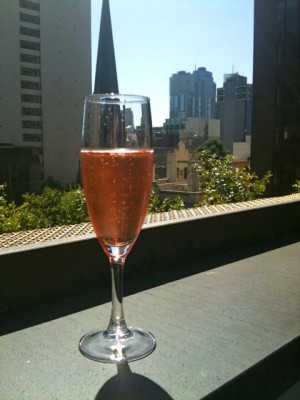 With a lovely glass of Spanish Brut Rose on the go we start to work our way through a sample of the amazing food on offer! Coffin Bay oysters with strawberry mignonette are mind blowing!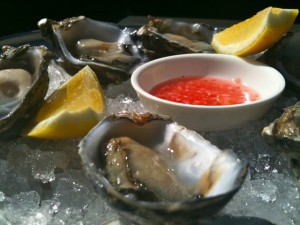 Creamy, beautiful and plump – perfectly shucked and with the taste of the sea – stunning!
The Smoked eel and horseradish croquetta are fantastic, with a generous squeeze of lemon juice they are super crunchy on the outside and then the luscious smooth filling with smokey eel and the heat of the horseradish are YUMTASTIC!!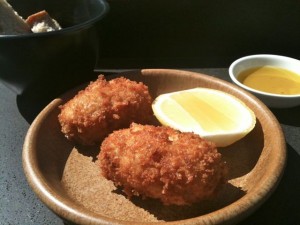 The boquerones – white anchovies with pickled banana chilli and nigella seeds is so pretty…. and soooooo tasty! Tiny flavour packed fishies with the perfect friends to create a superb dish – perfection!!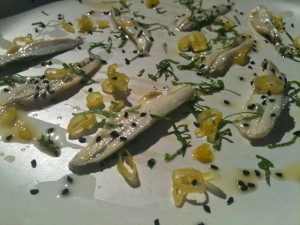 And then the finale! Dorper lamb ribs with a spicy zataar rub – squeeze the lemon on and enjoy meat falling off the bone and into your lucky lucky mouth! The spicy rub and sourness of lemon create that lip smacking spicy and sour that is just wonderful – so good.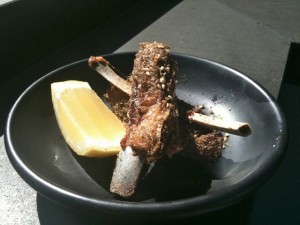 How good were they, how easily did they fall off the bone? …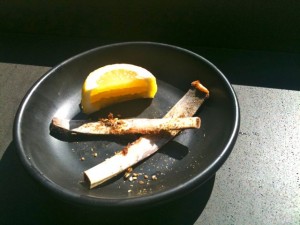 Yep – that should cover it!!
Wonderful place to be, lovely friendly staff and amazing food! See you again very soon!