Sunshine and brunch time in Albert Park, everyone is out with their kiddiwinks and doggies all dropping by for coffee and some food to fuel up for the rest of the day. The upgraded Dundas & Faussett is a great breakie stop, a top lunch place and by evening it transforms into an Asian inspired menu.
We are ready for breakie as creamy coffees arrive and menus with plenty to choose from arrive. The babyccino looks very cute but I am happy with a big girls coffee as I debate – French toast, bagels, crepes, bruschetta, omelette.
I feel a little bit fancy today so I go for a Thai omelette – fluffy eggy omelette with spring onions, beansprouts and coriander with a drizzle of Thai sauce and a little side of spicy chilli sauce!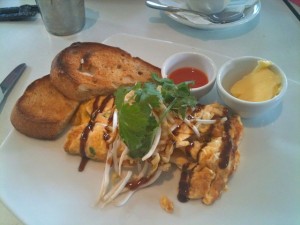 Yummy and tasty!
The crepes with heaps of colourful berries looks great, the breakfast bruschetta looks generous though a slight issue with no mention of pesto on the menu and a friend with a nut allergy is not a good combination – the staff were very good to fix this all up though so no dramas and we are promised the menu will be fixed too.
The French Toast is 4 slices of gorgeous eggy bread! Soft, marshmallowy, sweet and scrumptious! Drizzle a little maple syrup and this is a delectable treat!
Fantastic! Great service, these guys are busy but they are zooming around delivering menus, coffee, food and smiles. Happy days!