Albert Park, it's a gorgeous hot and humid Summer evening and there is a table in the window at Misuzu's with my name on it!
Perfect night for a graze through their amazing Japanese menu I am beside myself with excitement at the thought of gyoza and crispy Kingfish neck!
First up – chicken dumplings, perfectly thin wrappers around juicy, succulent chicken and spices.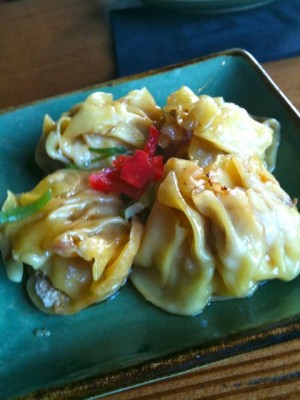 And then…. oh mouth watering ahoy… the prawn gyoza, crispy balls of the most amazing prawn, served on the safely of their wooden spoon so that you can plunge them into the sweet and spicy sauce in the bowl below – cleverly retaining the crunchy yumminess whilst allowing a good coating of the sauce.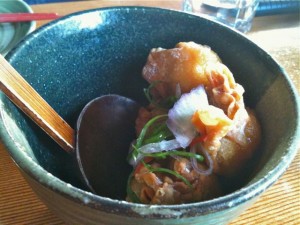 The crispy skinned kingfish neck special is rather special! Two hefty pieces of the most delicate flaking fish, barely clinging to the bone, you can just suck it right off!! And we do, no apologies for the noise we made, it was a sign of appreciation!!
Piled high with shredded carrot, chilli and onion and dressed with a lovely mix of sweet and sour it is brilliant!
The duck rice paper rolls are a generous length… it sounds a bit wrong but as they are open ended they do fill out a bit more! There is a generous amount of duck packed with fresh and crunchy salad and a delicate sauce.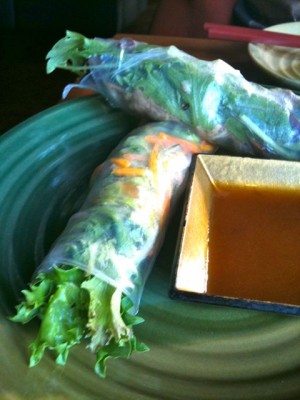 The little oyster sushi rolls are a little mouthful of heaven! Letting the oyster do the talking they are creamy and luscious – a beautiful dish!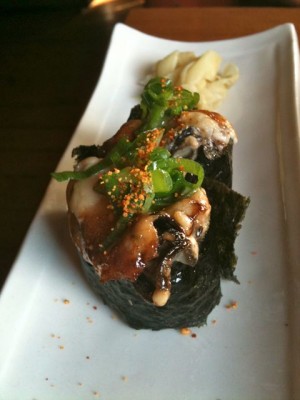 Finally smoked salmon croquettes are a yummy treat to finish the meal, crispy crumbed and smooth and creamy inside with good chucks of salmon… it's all good!!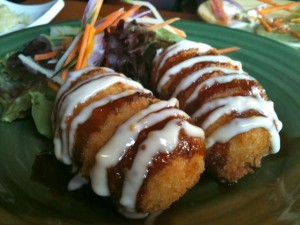 It seems Misuzu's has well and truly recovered from the fire that gutted it not so long ago and they are yet another of my new local favourites! Yummmmooooo!!