I have a new word lately, it is obviously made up and sounds a bit odd but 'amaziballs' – it's means quite brilliant! And Brasseries Bread, newly installed in Port Melbourne is amaziballs!!!
Based at the top, near city road, the new baker in town is very impressive! A great big beast of a building with a slight retro 60's feel to the minimal decor. A lovely airy space for lucky diners and then a window into the world of baking, lots of big, cool looking machines to produce a whole world of artisan baked goods.
I was a little envious of all the little critters, ooops I mean children, heading into the big machine room for a baking class! A brave teacher takes on a kiddies cooking class! But I am soon distracted by the tasting table…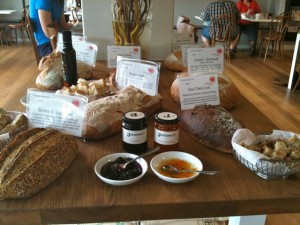 Try before you buy – a handy trick many people miss in the wonderful world of foodie retailing… I am sold on the first bite! A moist, nutty quinoa and soya loaf – wow! One of those and a handsome looking garlic bread destined for something lovely this week are quickly snaffled away!
Clever set up with ipad / tablet ordering systems, very neat and barely take up any space, I did lose a moment looking for a big old till somewhere on the bench!! Another cheeky taste of the banana bread and lemon curd and I am going into tastebud overload! In my defence I am recovering from a rubbish cold so I haven't eaten much except crackers lately and lemsips aren't a food group so this is my reward for feeling better!!
The breakfast menu is a wholesome showcase of the amazing breads on offer with an array of good friends! Plenty of good butter, tasty preserves, organic eggs and some extra special sides.
I opt for the amazing sounding sourdough crumbed potato cake with smoked trout, poached egg, feta and spinach….. WOWOWOWOWOWOOWOWOW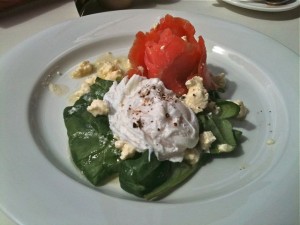 Super fresh, oozey egg, barely blanched glossy spinach, crumbs of salty feta and a good pile of smoked trout. The potato cake is crispy and falls apart as you load it with the trout and fabulous yolk as it pools around the plate! Delish!
But …… you cannot beat a good old Egg and Soldiers sometimes!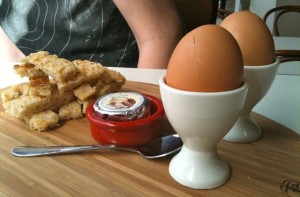 Mum always made them perfectly runny but she never served them with a decadent roll of real butter and perfect bite size soughdough fingers! There is much grinning and happy vibes as the tops are cracked off and the dunking begins! You cannot beat this…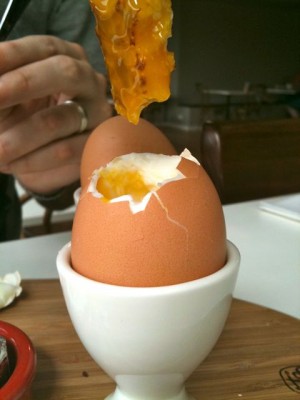 This is not for the kids, they will not appreciate the perfection of a pure runny boiled egg with especially sized fingers of fabulous toasted bread. The dunking turning the fingers golden yellow and the resulting mouthful of joy…. too much!?!?!? You get it was pretty good, right?!
Brasserie Bread is a great place to be, there is a whole lunch menu still to be explored as well as cakes…. lots of them!!
I think I fell a little bit on love today! It was those boiled eggs!!