The number of great places popping up on Swan Street past the Church Street cross over is amazing! And new kid Fonda Mexican is no exception! Part of the new generation of Mexican restaurants appearing across Melbourne it is fun, fast and feisty!
Step inside and there is a bustling open kitchen with a fair few people crammed behind but everyone is doing their thing and action stations are pumping out amazing looking food! The flames are jumping, the press is turning little balls of dough into huge tortillas in a matter if seconds.
Head out the back to a gorgeous sunny little courtyard and if you are lucky enough to grab a seat you can look forward to fast, friendly amazing Mexican!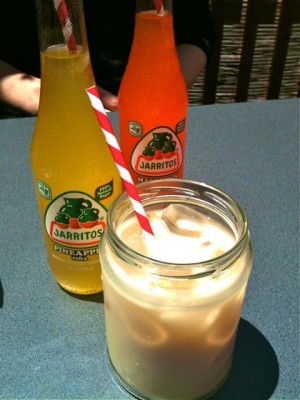 Bring a crowd of foodies and you can order one of everything!! Nearly! Firstly the Horchata – jam jars of creamy iced spiced refreshing lovliness! Made with ground almonds, sesame seeds, rice and condensed milk (I think!!) it is great. The spices make me feel quite festive as I toot on my red and white striped straw!
So the menu is one page of simple, honest good Mexican – Burritos, Tacos, Quesadillas – bring it on!!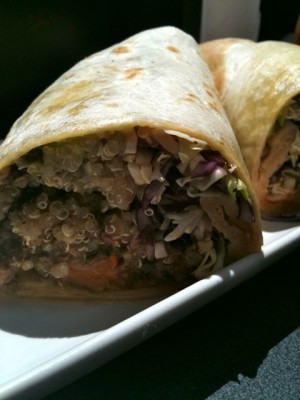 Kangaroo fillet burrito is a 12″ mother! Soft, velvety burrito packed with flash grilled Roo. The flavour is fabulous, I am having a little mouth watering moment at the thought! With plenty of Quinoa, onion, cabbage – its a man size Mexican joy!!
The bowl of hot chippies with spicy yummy chipotle aioli are super good!! A decadent treat for the table, we are all tucking in and licking sauce off our fingers!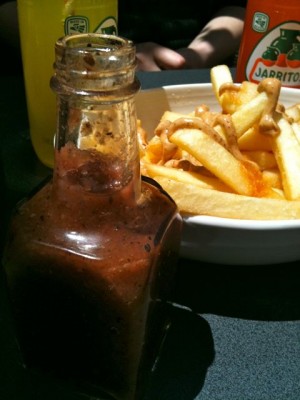 The fish taco is a more lady like 6″ taco with fresh fish, aioli, avo, picked carrot onion and cabbage – be warned one will never be enough… well not between four!! Go on, order them all! They come with fish, braised pork or Vegetarian YUM!!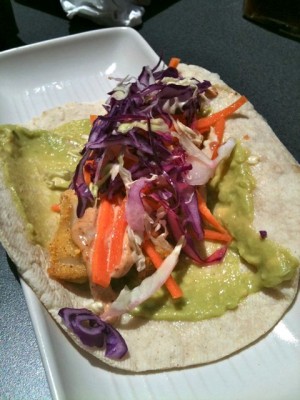 The Ensaladas is a grilled chicken salad, generous bowl full of glistening quinoa. black beans, cabbage, fresh coriander, smoked corn, baby peas and salsa verde with a generous amount of succulent smokey grilled chicken – a definite for a quick healthy take away treat!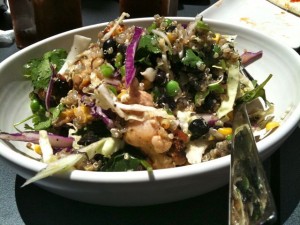 Charred corn on a stick – we accept that there will be much pulling of kernels from teeth afterwards as we tuck into juicy grilled corn covered in grated ricotta – delish! Took is a while to get all four but they were totally worth it!!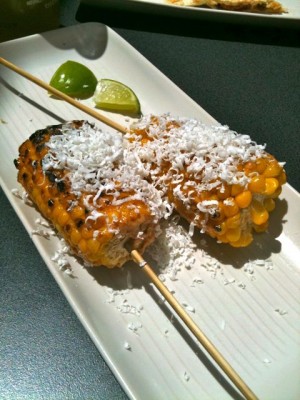 But hold everything! Quesadillas Please! 12″ pressed loveliness! We are happy to be tucking into a triangle of soft tortilla with chorizo, queso fresco, jalapeno and salsa roja smothered on the top – spiceeeee!!!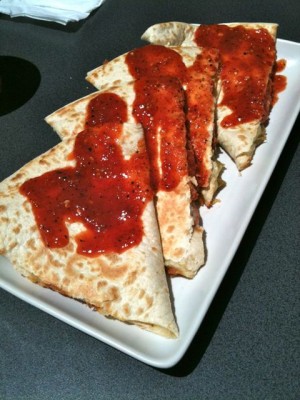 The sun has been filling the courtyard, there is a buzz of happy gringos and we all agree we will be back! Especially when the liquor licence comes through in two weeks and we can grab a cold beer or glass of chilled white.
The staff are great, nothing is too much trouble, the service is fast and efficient and the food is THE BEST!! The only issue will be whether you can grab one of the few seats available once everyone catches on! But they do do takeaway!!
Yum Yum Yum!!