Just off Clarendon Street is a little gem called Garamerica, no white table cloths or sommeliers, this is BYO, simple, good and fast!
First up is a refreshing glass of something new (for me!) Es Cing Cao or Grass Jelly in a glass – why not!! It's a gelatinous sweet drink with not so much of a grass flavour than a nice flavour like pendang – I had imagined a wheat grass shot!! This was much nicer!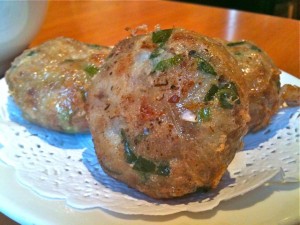 Perkedel – deep fried seasoned mash potatoes! YUM! Gorgeous little crispy pillows of potato with spring onions and herbs. So good!!
The beef rendang is an absolute favourite, the entree size is great to share with some plain rice. The beef is slow cooked through the coconut milk and spices and the result is a rich spicy sauce with great hunks of flaking meat – amazing!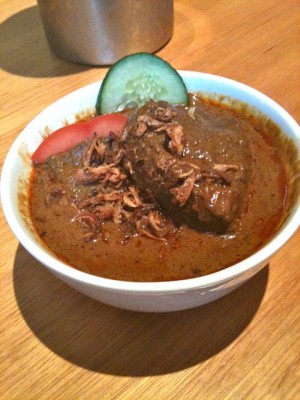 The Sate Ayam is marinated chicken skewers grilled with tangy peanut sauce, the smokiness of the grill is really distinctive and just lovely! You could easily eat a lot of these on your own!!
Siomai are the steamed Indonesian Fish dumplings with homemade peanut sauce. The dumplings are large sliced steamed slabs of fish, herbs, spices with boiled egg, tofu and slathered in a punchy real peanut sauce. It doesn't look to pretty but it tastes amazing!!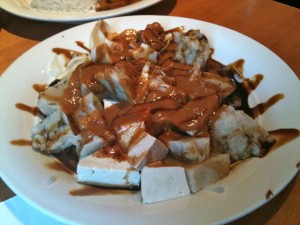 The Ikan Bakar is a marinated whole baby snapper fish, grilled to perfection with an amazing tangy sweet sauce. The fish just flakes off the bones and the sauce is amazing a perfect companion to bring the fish flavours alive! We are pretty good at stripping this one clean!!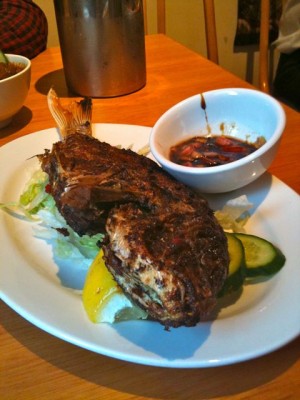 Lastly the prawn crackers are perfect to dip in all the many sauces we have collected, I love the great big crackers, thick and tasty they absorb the peanut sauce, the rendang gravy and the sweet and tangy fish sauce YUMYUMYUM!!!!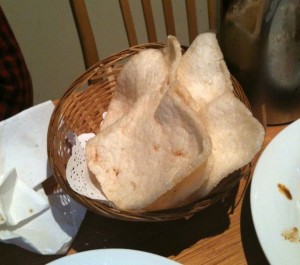 This is a good little local secret! Let's just keep it between us!!