There's a new menu in town – and it rocks!!
I admit it has been a while since I have been to Stokehouse Downstairs so I can't remember the old menu but the new one is fantastic! Packed full of generous dishes to share, plenty of pizzas, great sounding salads and sides as well as more main size meat and fish dishes. We'll talk desserts later!
The sun is just starting to set and the warm evening breeze is floating through the restaurant, the tables are starting to fill and the buzz of conversation and laughter is building as we take a seat at the windows and peruse the new menu.
With a few of us and empty tummies we are happy to order a feast of dishes to share and we start off with a wonderfully creamy Victorian buffalo mozzarella with petals of radicchio delicately dressed with aged balsamic.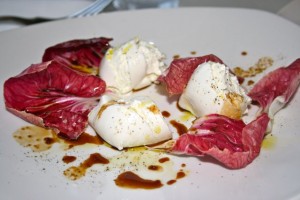 So pretty! So tasty!
Being the oyster fiend I am we have to have the natural oysters served as I love them with lemon – creamy, yum and good looking!!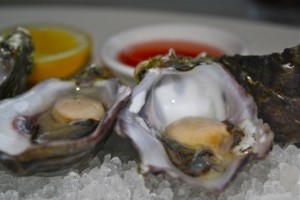 The Grilled chorizo, potato bravas is a hearty, rugged dish with hunks of great grilled chorizo with chunky slices of kipflers. Dancing in a spicy, rich sauce it is a gorgeous dish… not to be eaten near a white shirt!! He isn't a beauty to photograph but I promise he tastes good!!!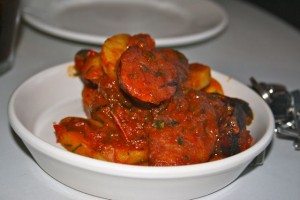 An amazing chicken liver parfait with toasty brioche and tiny gems of rosehip jelly is foodie heaven! Perfectly smooth decadent creamy parfait with lightly toasted brioche fingers and little touches of rosehip are delish!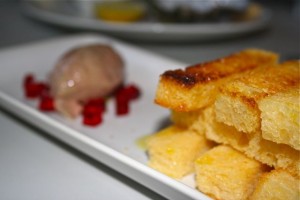 There is some fabulous chilled Coldstream Chardonnay and a bit of Dirty Granny going on as we try not to lick our plates! The sun is bleeding across the evening sky and there are still plenty of people frolicking on the beach. The restaurant is busy, Friday night friends, family and colleagues are enjoying a relaxing evening.
Round two of the feasting commences with some larger plates to share including a wonderful thin crust Sopressa pizza. Light crispy base with just the right amount of topping with olive, tomato & pesto. Always good to order something 'for the table' the roast potatoes with rosemary sea salt are so good! Give me a big couch and a soppy movie and I could have a great date with these delectable spuds!!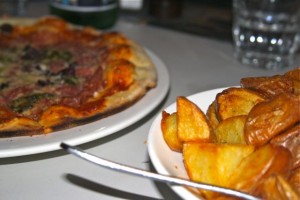 Chargrilled swordfish with romesco sauce is super healthy, a good sized swordfish steak with a light frizzante salad and rich romesco sauce of capsicum, garlic and tomato is the perfect dish for a lighter health conscious choice.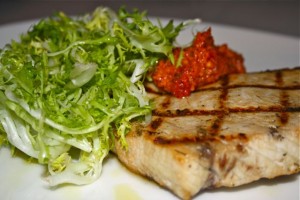 Our final main dish is the blackboard special of Ravioli with ocean trout, bug, saffron cream, crustacean oil and fresh herbs. It's a big boy ravioli packed full of trout and bug and resting on a rich, luscious buttery sauce.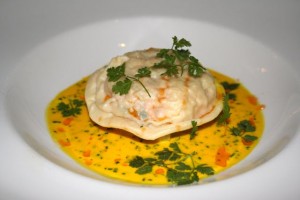 BUT….. we are not done yet! Desserts ahoy!!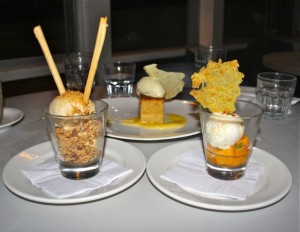 The dark ale ice cream with salted caramel peanuts is amazing, the ice cream is lightly flavoured with the hop-iness of a good old ale and with the salted caramel and peanut crumbs it is naughty and very very nice!
The fresh mango with rum & chilli syrup, mint gelato and coconut wafer is a great contrast with a lighter, fruitier flavours packing this great summer dessert – made to make you smile!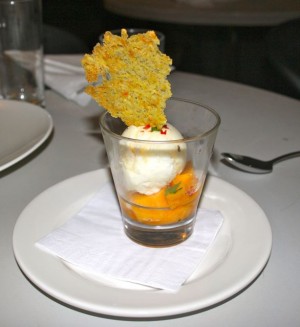 But the winner of the best dessert in the world ever goes too……….
The lemon ricotta cake with lemon curd…. WOWOWOWOWOWOW!! The ricotta cake is moist and heavy in a good way, the ice cream and lemon curd all work together to make a perfectly wonderful dish, there are spoons clattering as we fight over the rest of the cake!!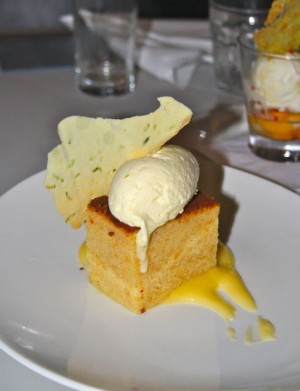 We have really enjoyed ourselves, the atmosphere is just right and you can set up shop for the rest of the night and work your way through the menu, there is no tutting and watch looking to turn the table over! Just sit back, have a drink and enjoy some wonderful food with those that matter most to you!!
See you soon Stokehouse!