Firstly it is important to note that there are no scones and jam here! This is a stunning Italian haven in little place called Yarck.
Secondly there are no paper menus and prices, the chalkboard shows the days fare and there is a very tempting option of the chef's four course degustation designed to meet your preferences. From reading around I now know it is $89 per person and with this standard of food that is fantastic value.
The staff are gorgeous, full of smiles and joy as they deliver bread and wine and plate upon plate of great food! The quaint setting is almost like dinner in a sunny homestead with small tables and delicate decoration. The staff will take you through the days menu and help you choose – in our case we are pretty full from a weekend of food fun in King Valley, so though I would love to spend a lazy afternoon at the whim of the chef we opt for a shared antipasti and two pasta dishes.
There is a fantastic conservatory that we can see in with a lovely long table and the room quickly starts to fill with a private function but you would never know the staff were about to run the gauntlet for another 15 people as we are quickly served a small square of thick aromatic garlic bread and a really nice wine list.
With a refreshing Bellussi Prosecco on the table we start to receive the small plates of antipasti – at first I think I might have made a horrible mistake as one dish arrives and we tuck in… silly me, I am thinking we should have ordered more when another dish arrives and then another, and another! It is a feast!!
Dish one – stuffed zucchini flowers with roasted cherry tomatoes and a beautiful buffalo cheese is stunning.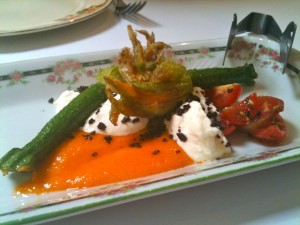 I can still remember the grin I had when I cut through the flower and pulled up the gooey cheese strands until they gave in! The baby zucchini is firm and flavoursome and the flower head is crispy and cheesey! The little tomatoes on the bed of cheeese and tomato sauce are divine!
Dish two – green beans with scorched almonds and the best chicken nuggets ever!! Crispy herbs breadcrumbs envelop a little treasure of succulent chicken YUM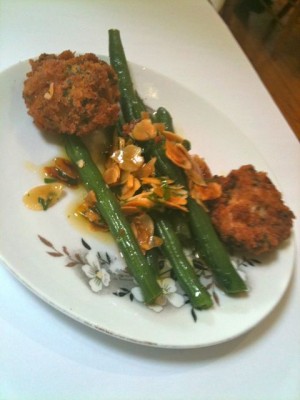 The beans are barely blanched and perfectly fresh but the scorched almonds and olive oil dressing the beans is just gorgeous! Crunchy, nutty, toasty…. it is a winning combo of natural good flavours.
Dish three – Ox Tongue with a green pesto with a wonderful hit of anchovy.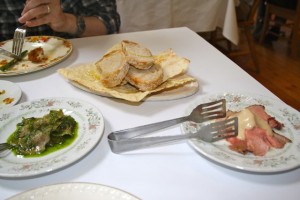 Dish four – Fresh bread, crunchy flat bread and slices of rare roast beef with luscious tuna sauce continue as our fourth plate, it is a fantastic feast of small plates of amazing fresh produce.
Dish five – is three big juicy mussels with flash grilled squid, incredibly juicy and gorgeous!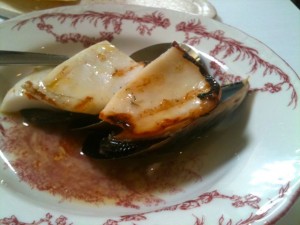 Dish six! I know it is amazing! We have a great little dish of octopus and potato, the octopus is delicately flavoured like tuna and is surprisingly soft and meaty!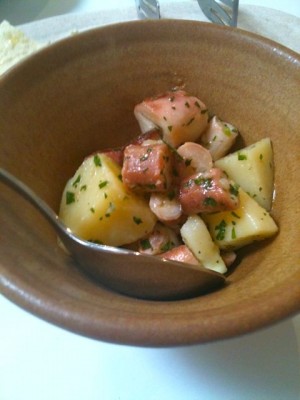 And that was only entree!!
For our mains we have selected two of the days pasta dishes, the Ravioli de zucchini e porri, amazing delicate pillows of zucchini and leek with a saffron butter sauce and the crunchiest crispiest pancetta ever!!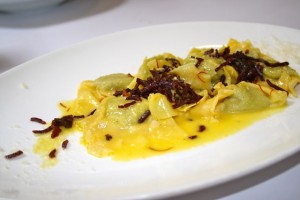 It is decadent, rich, luscious and wonderful!
Our other dish, the Maltagliati con seppia e ceci – Maltagliati with cuttlefish and chick peas is a hearty dish with huge ribbons of homemade pasta and plenty of cuttlefish, chickpeas, fennel and red pepper. It's aromatic, comforting and fresh!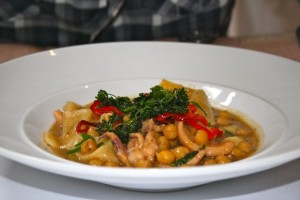 There is a calming happiness at the Tea Rooms of Yarck – it's busy and noisy but somehow remains perfectly pleasant and even with a window into the busy kitchen you still feel relaxed and well looked after!
We don't make desserts today, though that tiramisu was calling me!! I recommend you give the Tea Rooms of Yarck plenty of time to enjoy the wonderful food and hospitality! Our quick drop in was lovely but I would have loved to have stayed longer!
Thanks everyone at Yarck!