Quite possibly the best meal i have had in Melbourne in some time…. thats quite a call but that is what I said as I left Mediterraneo last night!
We were craving some red meat and just around the corner is the lovely Mediterraneo Charcoal Grill, as per their website "Mediterraneo Steak House and Seafood has the best charcoal grilled food to offer, from the finest King Island aged steaks and daily catch seafood varieties to flavoursome Mediterranean indulgences, all cooked to perfection on a custom-made mallee-root grill to produce low-fat delicious meals."
And they did not fail to please! The choice of entrees was great with plenty to choose from with prawns, quail, soup and the wonderful Chorizo al vino blanco – Spanish sausage slices sizzling in fresh diced tomato, herbs and white wine….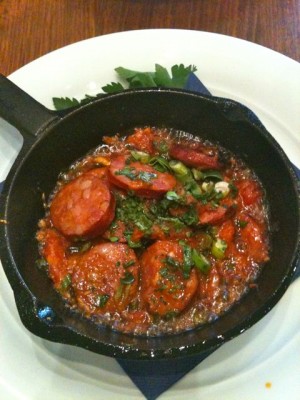 It is amazing! Gorgeous, firm sausage in a rich tomato sauce, it's pretty generous but it is sooooo good! I manage to barter some of the amazing chorizo for a taste of the 'Char grilled scallops and pancetta brochettes served on a grana padano, pear and rocket salad'.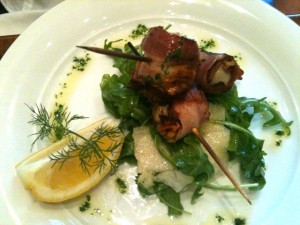 We have treated our selves to a bottle of Montepulciano from Italy and it goes really well with out chorizo and I know it will go well with the steaks!
So serious business – Steaks! All steaks come with roast potatoes and a red wine jus, there are four to choose from and varying grams to separate the men from the boys!
I go all out and order the "Certified Wagyu Beef – Wagyu is the world famous Japanese Beef breed. The meat is typically highly marbled, full flavoured with relatively low levels of saturated fats and cholesterol compared with other beef breeds. We seek free-ranged cattle with clean air and natural grasses , marble score 6+. Scotch Fillet steak 250g $49.50"
It's a hell of a commitment and the expectations are very high…. and they are totally delivered, this steak was out of this world! Cooked on the rare side of medium rare it was perfect, so juicy and melt in the mouth – you barely need to chew!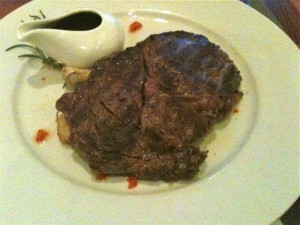 The red wine sauce and the chunky, flat potatoes and delish and the Grana Padano, pear and rocket salad is a nice side to lighten the meal as you work through the meat!!
My hubby goes for the Certified Black Angus Beef Porterhouse 450gms of good looking beef! Cooked perfectly and just amazing, as per their menu "Angus is known throughout the world for their ability to consistently produce high quality beef. The superior meat quality of Angus cattle comes from their
ability to lay down intra-muscular marbling fat during the finishing phase, with excellent tenderness, texture, flavour and meat colour. This succulent premium beef is from Gippsland and is an absolute must for steak lovers."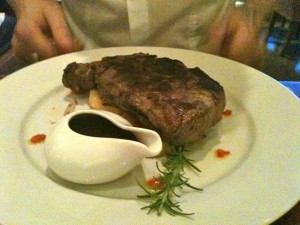 This place has THE best steaks I have had in a long time! The wine goes perfectly and we are quiet as we chew through with only yummy noises to be heard!
Because we haven't been bad enough we finish off the night sharing a Chocolate flourless cake with chocolate anglaise and King Island cream.
D-I-V-I-N-E!!!!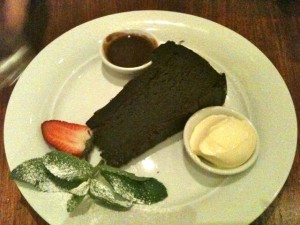 Fudgy, choc-tastic cake with dolloping fresh cream and oozy choccy sauce….. life just doesn't get much better!!
The team at Mediterraneo are lovely, they are attentive and polite, delivering the best steaks ever and choccy cake with a smile.
Thanks and see you all soon!