Sat up on Burwood Road and open for lunch on a Friday we enter the heavenly space of Wantilan Bali, my first Balinese and we are all very excited!
The decoration is all very peaceful, soft colours, natural woods and Balinese figurines and images make the restaurant feel very comfortable and we settle in with the menus to put together a feast for us all to share!
The Lumpia Megoreng – traditional Indonesian vegetarian spring rolls, are a must! They are super crunchy and packed with gorgeous tasty vegetables – just yum!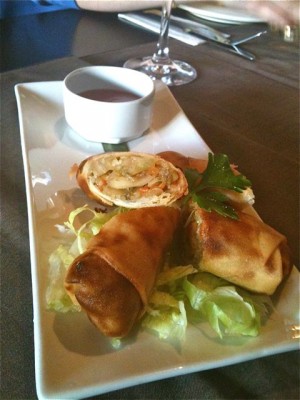 The Wantilan Satay – balinese style satay with chicken is perfect, succulent good quality chicken, skewered and delicately dressed with a rich, dark, peanutty satay, I wish there were more!!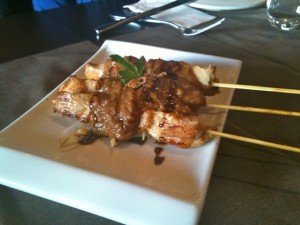 The Wantilan Mie Goreng – Chinese influenced noodles with minced chicken, shallot, garlic, shredded omelette, chicken satay, chicken leg and crackers and a hell of a dish! Presented on a wooden bowl, bit like a cake stand the bowl is delicately arranged with the noodles, chicken and a great with prawn cracker standing up in between!
The Jukut Gado gado – originally from Java -is a great dish with lots of lovely vegetables, bean curd, soy bean cake, boiled egg, peanut sauce, sweet soy and beautifully colour tinged prawn crackers, the soy bean cake is really good, confusing to the palate at first, it is slightly salty, slightly sweet, almost meaty but not!! Combined with the rest of the Gado Gado it is fantastic!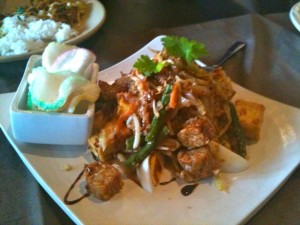 BUT – hold everything because we have the …….Wantilan Be Celeng Guling – Traditional Balinese Suckling pig with fragrant lemon grass, herbs and chilli. Firstly there is a very generous serve of the BEST crackling in the top of the dish, the loud happy crunchy that starts to erupt around the tabl e is brilliant! It's naughty and its very, very nice!! The pork is shredded and coated in a fresh, deep, lemon grass and chilli packed paste that is an absolute winner!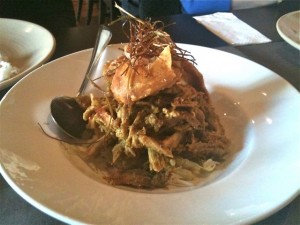 The Beef Rendang is a perfect example of how this dish should be, meat that just melts on the mouth and a sauce that is nicely spiced, rich, nutty and just fabulous!
There was a list of tempting desserts but all lunches must come to an end and off we go back to work.
Th Wantilan is a brilliant place, you must go try!!