When you need a good breakfast and a beautifully fresh squeezed juice you should head to good old Velvet Bar on Bay Street. It's been there a long time and the menu doesn't change much – it doesn't need to they are on to a winner!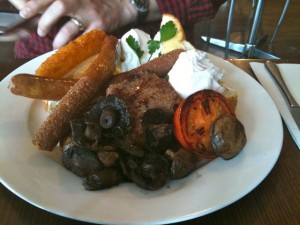 Ok, not my breakie! But I did get to sample most of it! 'The Velvet Works' is mans business! A heaving plate of all things a breakie should be!! Minute steak, sausages, eggs, bacon, hash brown, mushrooms, tomato, toast….. seriously!! It is good though, the hash brown is crispy and greasey and plenty of soft luscious potato. The sausage is tasty, good quality and there are two big boys on the plate! The poached eggs are perfection, plenty of mushrooms… it doesn't stop! Well actually they did have to stop eventually!
My 'angelic' breakie of scrambled on rye toast with a side of spinach is very well behaved… as i said I get to sample!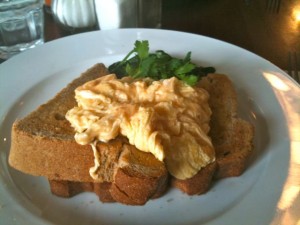 The eggs are beautifully cooked, that perfect edge between too runny and not runny enough! Gorgeous big wedge of rye toast, lightly buttered and earthy, wilted spinach!
Yuuummmmm!!