The Palace by Luke Mangan hosted the Coldstream Hills wine dinner on the 5th October, an intimate evening with winemaker Andrew Fleming and a matched menu of wonderful sounding food – how else would you want to spend a night!
Seated at small tables around the second bar area this is as close to having dinner with Andrew as you will get (unless you know him personally!) it is cosy and lovely – ignoring the slightly roudy group that are yowling in the bar – they moved away pretty quick!
The first dish to go with the Coldstream Hills NV Sparkling is the delicate sashimi plate with three exceptional bite size portions all with amazing flavour combinations!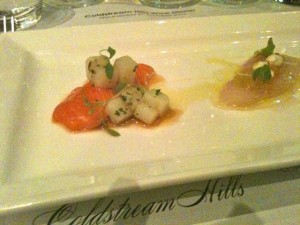 (apologies for quality of images, again intimate dining makes flash photography a bit rude so they really don't do justice to how lovely the dishes were!)
The New Zealand king salmon with potato confit and ponzu dressing – gorgeous, good strong flavours that work well. Kingfish sashimi with ginger eschalot dressing – sublime, fresh and zingy. Scallop, cauliflower puree, black bean dressing and baby shiso is amazing, I have never eaten raw scallop and texturely it is a little strange but the puree and flavours work so well together. Plates are scrapped clean – it would be rude to lick!!
The two chardonnays are rewarding! I am so back on board the chardonnay train! We are lucky enough to have the 09 Rising Vineyard and the 10 Deer Farm Vineyard wines to try – I look a bit of a prat when I exclaim how deep yellow the Deer Farm wine is….. move the olive oil from behind you fool!!! Oh well at least I am honest and enjoying trying the different wines!
Andrew is an excellent host and talks passionately about the wines and is quite happy when the room is split almost 50/50 on their favourite, the Prawn Omelette with bisque sauce and truffle oil goes perfectly.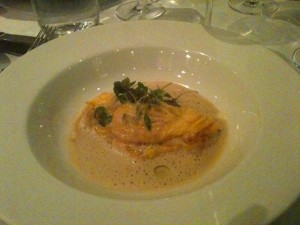 Fluffy omelette wrapped lovingly around fresh, firm prawns, floating in a rich, luscious bisque bath yummmmmm! Truffle oil is still a flavour I am trying to work out, I am sure it is one of those flavours that you have to try a few times to appreciate it's complexity, or perhaps the real thing demonstrates how good the oil is – I will keep working on that one!!
Very excited about the 2010 Reserve Pinot Noir and the Confit Duck, Asian style brique pastry, char sui mushrooms and duck and ginger broth – could there be anything better on this earth???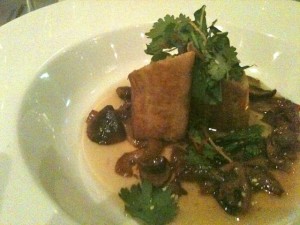 Wow – it is good! Crispy pastry, juicy duck and the mushrooms rock my world! It is a masterful dish or strong flavours that are cleverly combined to work exceptionally with the light and delicate pinot.
The 07 Reserve Shiraz with Chai Pannacotta is a great dessert, smooth, creamy light and refreshing with a heroic shiraz – life is pretty good!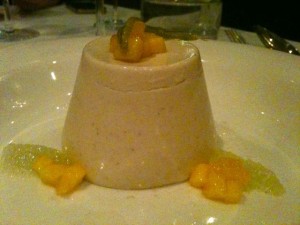 We finish a perfect evening with the most perfect chocolate martini ever created! The staff are fabulous at The Palace and their friendliness is only second to their cocktail making skills!