THIS RESTAURANT IS NOW CLOSED
I love those unplanned moments where you are just there, spur of the moment, why not, who cares if it is raining! Lets go for a lovely lunch at The Brix!
Newcomer for super cool Brunswick Street, the weather and the races have kept most people away and it's a nice quiet Saturday afternoon. First things first – the decor at The Brix is gorgeous! From the un-matched glass lampshades and mosaic clad bar to the hero picture and mega sized pig statue holding todays papers – I love! I also adored the toilets! I know ridiculous to go there already but they were stunning!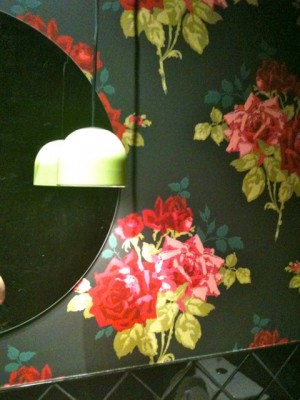 Each one individually styled with the boys sporting a cheeky pink old fashioned pattern that on closer looks shows scenes of gun fights!!
Anyway – the food!!
The menu is great, but the specials sound even greater!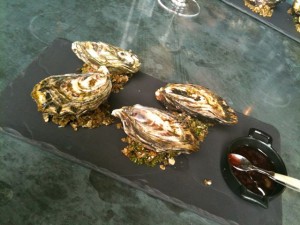 Four Tassie Oysters each! The garnish is lovely but there is no need, I don't want to lose a single bit of the flavour of these plump, salty, creamy lovely pockets!! They taste just as good as they are presented and we are off to an excellent start!
A glass of German riesling goes perfectly and the lunch specials arrive!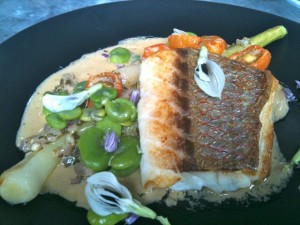 How good does that look?! Snapper, cooked to perfection and served with baby leeks, podded broad beans, the sweetest roasted cherry tomatoes and so pretty – edible flowers!
The second dish is also incredibly good looking and tastes just as handsome, still slightly pink juicy pork with a white anchovy pesto – out of this world! Fresh peas, braised baby onions and the most crispy flavour explosions of bacon make for a wonderful dish!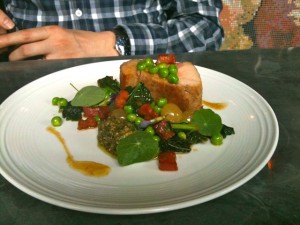 The service is easy going and just lovely! There are new winners in my 'Restaurants with Cool Dudes' competition! I cannot decide between the duo at front of house in their braces and beards and the boys in the kitchen with their tattoos and gentle faces of concentration! And the midst of it all the lovely Emma, a splash of red lipstick and a winning smile, I am really pleased we visited The Brix!
We crack into a lovely Adelaide Chardonnay Viognier from Ngeringa and happily accept the idea of a few pieces of cheese to finish the day off!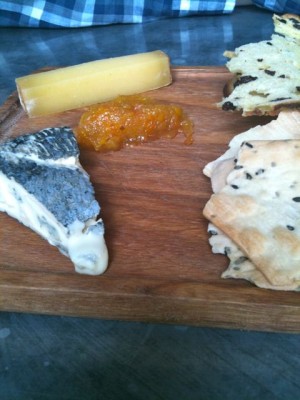 I wish I could remember (or spell) what they were!! But I do remember a fantastic mandarin / orange marmalade / chutney that make the cheese dance beautifully!
This place is fantastic, shhhhhh don't tell everyone!!